Christine Blasey Ford is donating funds from GoFundMe campaign to trauma survivors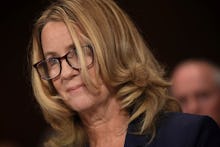 Professor Christine Blasey Ford, who rose to national prominence by testifying against Brett Kavanaugh's Supreme Court nomination in September, will be donating some of the money generated from her recent GoFundMe page to organizations that support trauma survivors. The fundraising campaign — which was launched by her team and set up to pay for the protection of Ford's family — raised $647,610 in two months by close to 14,000 people, surpassing its initial goal of $150,000. Donations to the campaign are no longer being accepted.
Ford said the funds have gone toward security after she received death threats for coming forward with allegations that Kavanaugh attempted to sexually assault her while they were in high school.
"Your donations have allowed us to take reasonable steps to protect ourselves against frightening threats, including physical protection and security for me and my family, and to enhance the security for our home," Ford wrote in a message posted to her GoFundMe on Nov. 21.
"We used your generous contributions to pay for a security service, which began on September 19 and has recently begun to taper off; a home security system; housing and security costs incurred in Washington DC, and local housing for part of the time we have been displaced." Her family also stayed with their security team in a residence that was loaned to her family, she added.
This message comes after Ford wrote in October that she was still receiving threats and that she and her family had moved four times.
Moving forward, Ford is donating the remaining funds.
"All funds unused after completion of security expenditures will be donated to organizations that support trauma survivors," Ford wrote. "I am currently researching organizations where the funds can best be used."
On Sept. 16, Ford became the center of national discourse on sexual assault survivors after publicly speaking out against the nomination of Kavanaugh, who denied the allegations. Ford was ridiculed by President Donald Trump for not reporting the alleged incident when she said it occurred around 1982. After an FBI investigation into the matter and weeks of protest against his confirmation, Kavanaugh was appointed to the Supreme Court, replacing Anthony Kennedy, who retired. In the final sentences of her latest message, Ford thanked her supporters for standing by her.
"Although coming forward was terrifying, and caused disruption to our lives, I am grateful to have had the opportunity to fulfill my civic duty," Ford wrote. "Having done so, I am in awe of the many women and men who have written me to share similar life experiences, and now have bravely shared their experience with friends and family, many for the first time."