Laquan McDonald case: Officers accused of covering up for Jason Van Dyke go to trial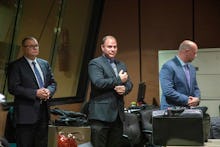 Chicago officers who were with Jason Van Dyke when he shot and killed 17-year-old Laquan McDonald in 2014 are headed to trial Tuesday to face accusations of covering up for Van Dyke.
Van Dyke was found guilty in October of second-degree murder and 16 counts of aggravated battery with a firearm. He is still awaiting sentencing.
Prosecutors allege Chicago Police Officer Thomas Gaffney and former Officer Joseph Walsh met after the shooting before filing false reports about the incident. Former Detective David March, a third defendant who led the department's investigation into McDonald's killing, claimed the officers' accounts were consistent with dashcam video and concluded the shooting was justified, according to WBEZ 91.5 Chicago.
The men face charges of official misconduct, obstruction of justice and conspiracy to commit those offenses. The defense claims the police reports don't prove the officers conspired to release false information.
Two other officers who were on the scene the night of McDonald's shooting are expected to testify for the prosecution. Joseph McElligott told a grand jury Walsh and Gaffney watched the dashcam footage of the shooting before filing their reports, the Chicago Sun-Times reported. Dora Fontaine is also expected to testify March told her to "back up" Van Dyke's self-defense claims.
March, Gaffney and Walsh have waived their right to a jury trial, so the case will be decided by Cook County Circuit Court Judge Domenica Stephenson, according to WBEZ.