Mexico requests the US conduct "exhaustive investigation" into use of tear gas at border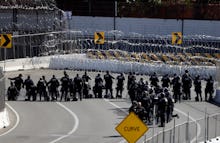 After an incident at the southern border that saw U.S. Customs and Border Protection agents deploy tear gas against men, women and children seeking amnesty, Mexican officials are seeking answers about the use of these tactics.
On Sunday, the situation at the border became violent after asylum-seekers stormed police blockades near the San Ysidro Port of Entry, prompting Border Patrol agents to deploy a cloud of tear gas that sent migrants running and set up an international standoff between the U.S. and Mexico.
Juan Manuel Gastélum, mayor of Tijuana, Mexico, said Monday he could not condone the actions.
"I cannot agree on the use of force, not even that type of force that is tear gas or rubber bullets," Gastélum told CNN. "I cannot agree on any of those actions."
Gastélum had requested assistance from the United Nations on Thursday amid what he described as a humanitarian crisis in Tijuana. The city's infrastructure has struggled to accommodate an influx of more than 5,000 Central American migrants who have arrived in the city on their way to the United States. While Gastélum noted he did not agree with the measures taken by CBP agents, he said he has "... mixed emotions and [is] a little bit mad with the people who are taking their kids, taking their little ones, their siblings to a point where it is very dangerous for them and it is not fair."
Since October, several caravans of Central Americans have been making their way toward the U.S.-Mexico border in hopes of claiming a credible fear of gang violence, governmental corruption or economic stagnation in their home countries.
Following the weekend skirmish — which reportedly led to more than 100 combined arrests on both sides of the border — Mexico's Interior Ministry announced Monday it planned to deport 98 migrants. The incident has also prompted Mexico's Foreign Ministry to request the U.S. conduct an "exhaustive investigation" into its use of tear gas as the two countries struggle to reach a mutually agreed-upon solution to the immigration crisis.
While President Donald Trump on Saturday tweeted details of an alleged deal that would have Mexico house the migrants while their asylum claims were adjudicated in the U.S., a Mexican official later disputed an agreement was in process despite an earlier confirmation the deal was on.
Although Mexico's Foreign Ministry on Monday continued to stress a "focus on shared responsibility," Trump has called upon Mexico to bear the lion's share of the burden.
"Mexico should move the flag waving Migrants, many of whom are stone cold criminals, back to their countries," Trump tweeted Monday. "Do it by plane, do it by bus, do it anyway you want, but they are NOT coming into the U.S.A. We will close the Border permanently if need be. Congress, fund the WALL!"