Behind the scenes of Amanda Bynes' internet-breaking 'Paper' magazine cover shoot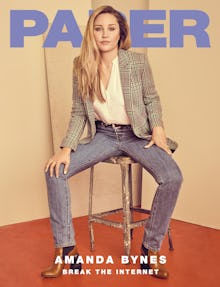 On Monday evening, actress-comedian-designer Amanda Bynes re-emerged after years out of the spotlight on the cover of Paper magazine.
A stoic yet serene Bynes sits atop a stool wearing a Sandro jacket, a Frame shirt, Levi's jeans and Dries Van Noten boots; leaning in, she stares directly into the camera as if to declare not just that she is back, but that she is better than ever. Bynes has been largely out of the public eye since 2015 following a prolonged public meltdown.
The accompanying piece, written by Abby Schreiber and photographed by Danielle Levitt, features multiple looks (including a top designed by Bynes, who is currently attending the Fashion Institute of Design and Merchandising) as well as a detailed interview in which Bynes ruminates on her past and her hopes for the future.
"I know my behavior was strange," she said. "I've been through the worst and came out the other end and survived it so I just feel like it's only up from here."
So what was it like working with Bynes? Mic caught up with Schreiber and Levitt to get their account of helping foster Bynes' reintroduction to public life.
Mic: How did this interview first come about? Was there a long courting process?
Abby Schreiber: We were able to connect with someone who was working with Amanda and her family and were very excited to hear that she was a fan of Paper and interested in participating in this story.
How was the story pitched to you?
Danielle Levitt: I've worked with Paper mag for over a decade so it was natural when Mr. Mickey [Boardman] called and said "I want to talk to you about a special shoot."
What sort of research did you do to prepare?
AS: I went through her beginnings on Nickelodeon (All That, The Amanda Show) and then looked at the TV and film projects she did as a young adult and kind of prepared chronologically, also looking back at some of those more difficult days.
What for you is the most revealing or fascinating part of the interview?
AS: Throughout the interview, I was struck by Amanda's grace and, in some cases, humor when reflecting back on those more difficult times. She held herself accountable for all of her actions and behavior and expressed sorrow for any hurt she caused others. To me it was a real testament to how far she's come in the last several years. I also enjoyed having the opportunity to walk around her campus at FIDM and connect with some of her advisers there. It's clear she is part of a really special, supportive community at the school.
Do you have any info about the shoot you can share? I imagine this was her first time in front of the camera in a long time.
AS: The shoot was a lot of fun. In one of the looks in the shoot, she's wearing a really pretty beaded and crystal-studded top that she designed herself.
How involved was Amanda in the styling?
DL: Amanda has a strong sense of her style, so she and our stylist worked together closely to create looks that felt like Amanda. It was very collaborative.
What was the experience like of working with her on set?
DL: Once a star always a star. She was rightfully guarded when she arrived. She hadn't been shot is so many years, hadn't shown herself or let anyone see her. It was important that I gain her trust. As anyone knows, I love a chat, so we did just that. I think I reminded her of her aunt [laughs], and the connection naturally grew.
What's been your response to the strongly positive reaction online?
AS: It's been very heartening to see such a positive response. It's indicative of how many fans Amanda continues to have and just how much they've —we've! — missed her!
DL: I'm thrilled! And not just because people like the photos, but that they feel the photos respect her and give her a space to shine and feel confident. It's a real honor when the public sees the entire experience as integral to making her feel and look beautiful. Her fans are rooting for her and we gave them something to cheer about.