Mic Daily: Mexico requests investigation into US use of tear gas at the border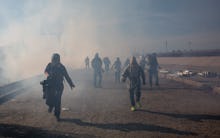 Hello, readers, and happy Tuesday to you all. Here are the top stories out of Mic today.
Paul Manafort reportedly met with Julian Assange months before Democratic email leak
If a new Guardian report holds up, it could be a major finding for investigators looking for evidence of a conspiracy between the Trump campaign and Russia in the time leading up to the 2016 presidential election. Read more.
Christine Blasey Ford is donating funds from GoFundMe campaign to trauma survivors
After Christine Blasey Ford testified against Brett Kavanaugh's Supreme Court nomination in September, donations from her supporters flooded in, to the tune of $647,610. Ford used a chunk of that to protect herself and her family, who continue to be the targets of death threats. Now, she has a plan for the leftover cash. Read more.
Mexico requests the U.S. conduct "exhaustive investigation" into use of tear gas at border
On Sunday, U.S. Customs and Border Protection agents deployed tear gas against people near the United States-Mexico border — including women and children — who are seeking asylum. Now, Mexican officials want answers. Read more.
Officers accused of covering up for Jason Van Dyke in the Laquan McDonald case go to trial
Former Police Officer Jason Van Dyke was found guilty in October on second-degree murder charges and 16 counts of aggravated battery with a firearm for shooting and killing 17-year-old Laquan McDonald in 2014. Now, additional officers are facing charges — including obstruction of justice — for allegedly meeting in private before filing false reports about what actually happened. Read more.
From Nixon to Trump, a history of the White House gingerbread home — and how it's changed over time
The internet delights in poking fun at first lady Melania Trump's dystopian, sterile Christmas decoration choices — and that extends to this year's gingerbread rendition of the White House itself. For those of you who think this criticism comes purely from an urgent need to dunk on anything Trump-adjacent, perhaps a bit of historical context will help. Read more.
Mic Daily is Mic's newsletter that cuts through the noise and lands in your inbox every weekday. We carefully curate each edition to send you a cross section of our most vital stories of the day.