Trump threatens to cut subsidies to GM after announced layoffs, plant closures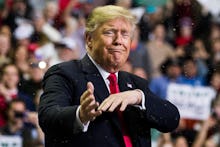 President Donald Trump on Tuesday threatened automotive giant General Motors, saying that he is looking into cutting subsidies to the company as retribution for GM's impending closure of five factories that will lead nearly 15,000 workers to lose their jobs.
"Very disappointed with General Motors and their CEO, Mary Barra, for closing plants in Ohio, Michigan and Maryland," Trump tweeted. "Nothing being closed in Mexico & China. The U.S. saved General Motors, and this is the THANKS we get! We are now looking at cutting all @GM subsidies, including for electric cars. General Motors made a big China bet years ago when they built plants there (and in Mexico) - don't think that bet is going to pay off. I am here to protect America's Workers!"
Trump's threat comes a day after GM's announcement that it is seeking $6 billion in savings by cutting production of certain vehicles, which will lead to thousands of its workers being cut.
White House press secretary Sarah Huckabee Sanders said there's no timeline for when the subsidies would be cut.
"I don't know that there's a specific timeline. As he said, he's looking into what those options might look like," Sanders said at Tuesday's press briefing, which was taking place when Trump fired off the tweet. "The president wants to see American companies build cars here in America, not build them overseas."
On Monday, Trump suggested that he was looking for retribution.
"They better put something else in," Trump said as he departed the White House en route to Mississippi for a pair of campaign rallies.
Trump has made multiple promises that manufacturing would see a resurgence under his administration, a promise that helped him in part win white, working-class voters in Rust Belt states, leading to his 2016 presidential win.
"I said, those jobs have left Ohio. They're all coming back. They're all coming back," Trump said at a July 2017 event in Ohio, referencing manufacturing jobs. "Don't move, don't sell your house."
Ultimately, economic experts say that GM's plans for layoffs is a sign that the economy may be starting to slow down, after years of growth.