'SpongeBob SquarePants' creator Stephen Hillenburg dies at 57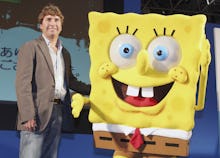 Stephen Hillenburg, the mind behind the ubiquitous Nickelodeon cartoon SpongeBob SquarePants, died Monday at the age of 57, Variety reported. Hillenburg had Lou Gehrig's disease, a diagnosis he revealed in March 2017.
"We are incredibly saddened by the news that Steve Hillenburg has passed away following a battle with ALS," Nickelodeon said in a statement. "He was a beloved friend and longtime creative partner to everyone at Nickelodeon, and our hearts go out to his entire family. Steve imbued SpongeBob SquarePants with a unique sense of humor and innocence that has brought joy to generations of kids and families everywhere. His utterly original characters and the world of Bikini Bottom will long stand as a reminder of the value of optimism, friendship and the limitless power of imagination."
Before he began his career in animated television, Hillenburg taught marine biology in California. As Variety reported, he began his animation career in 1987, studying experimental animation at the California Institute of Arts in Valencia and earning his Master of Fine Arts in 1992. Hillenburg also served as a director and writer on Nickelodeon's surreal cartoon Rocko's Modern Life from 1993 to 1996.
Hillenburg's own show, SpongeBob SquarePants, first premiered on Nickelodeon on May 1, 1999. SpongeBob has become a powerhouse since its arrival on the children's TV scene, spawning movies, a Broadway show and boatloads of merchandise — not to mention all the SpongeBob memes Twitter loves so much.
SpongeBob actor Tom Kenny, who voices the eponymous character, honored Hillenburg with a special award at the 2018 Daytime Emmys in April.
"SpongeBob's vocal chords might be mine, but SpongeBob's playful spirit of gentle anarchy, his humor and the joy he takes in his vibrant, colorful, music-filled world come directly, directly, 100% from my good buddy, Mr. Stephen Hillenburg," Kenny said.
A 2004 New York Times story about the SpongeBob empire described Hillenburg as a somewhat reclusive creator who preferred staying out of the spotlight and at home with his wife and son. He reportedly resisted fast-food tie-ins on the show and felt conflicted about products created using his characters' faces. Storyboard artist and director Sherm Cohen, who worked on 2004's The SpongeBob SquarePants Movie, described talking to Hillenburg about new SpongeBob merchandise.
"I was really excited," Cohen told the Times. "But Stephen looked grim. He said, 'My biggest nightmare is that I'm going to be at the beach one day and one of these dolls is going to wash up on the shore like garbage.' Being a marine biologist who also surfs, he doesn't want to be responsible for bringing a glut of garbage into the world."