Today in Trump's America: Nancy Pelosi faces key speakership test amid ouster chatter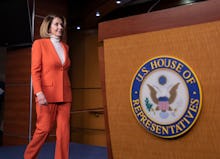 Tuesday was another wild day in Trump's America.
News trickled out about special counsel Robert Mueller's investigation, including a report that Paul Manafort secretly met with WikiLeaks' Julian Assange when he worked for President Donald Trump's campaign as well as a report that Manafort's legal team was relaying information from Manafort's cooperation with Mueller to Trump's legal team. The arrangement was reported as "unusual" by the New York Times and possibly a ploy by Manafort to get a pardon.
Trump then gave an interview to the Washington Post in which he called himself a climate change denier in a meandering rant that I can only describe as gibberish. Honestly, please check it out and tell me what he was trying to say. You can email me at TrumpsAmerica@mic.com with your translation.
Here's what's happening in Trump's America:
• There's nothing on Trump's schedule until 12:45 p.m., when Trump is scheduled to have lunch with New York Gov. Andrew Cuomo. Brace for tweets.
About last night: Cindy Hyde-Smith wins Mississippi Senate runoff
As expected, GOP Sen. Cindy Hyde-Smith won a runoff in Mississippi Tuesday night, besting her Democratic opponent Mike Espy by roughly 8 points.
The race drew national attention for Hyde-Smith's racist comments. But in the end, Mississippi is still a deeply Republican state, and voters stuck with their partisan leans to hand her a win.
Espy's performance was better than that of Democrats in past years. He took 46.1% of the vote, much more than former Rep. Travis Childers received in his 2014 race against now-former Sen. Thad Cochran. Childers only pulled 37.4% that year against Cochran, whose resignation in April due to health concerns led to Hyde-Smith's appointment.
Hyde-Smith will now serve the remainder of Cochran's term, which expires in 2020.
Today in Trump's America: Democrats vote on their leadership slate, including speaker
It's election day ... for House Democrats that is.
The House Democratic Caucus will meet at 10 a.m. Wednesday to choose its slate of leaders for the next Congress, when Democrats will be the majority and thus in control of the legislative agenda in the House.
There's been a lot of chatter from a group of moderate Democrats who want to oust Nancy Pelosi from her leadership spot and put in a new leader.
Their quest, however, has been a bumbled mess.
First, the group's argument that Pelosi is a hindrance to Democratic success in elections falls flat given Democrats just netted 39 — and very possibly 40 seats — in the midterm elections earlier this month. That is much higher than anyone predicted when the cycle began, when analysts wondered if it was even possible for Democrats to overcome their structural disadvantage to net the 23 seats they needed to regain control.
Second, and more importantly, the group has no challenger to Pelosi. Rep. Marcia Fudge (D-Ohio) contemplated it but dropped her bid and endorsed Pelosi after she found herself in the middle of a domestic violence scandal plaguing Cleveland.
"You can't beat someone with no one," Rep.-elect Jahana Hayes of Connecticut, who called for new leadership, said in a statement on Tuesday.
Still, there were a number of Democrats during the midterms who vowed not to vote for Pelosi. Wednesday's vote gives them the opportunity to say they voted against her and tried to stop her but couldn't. Back in 2016, when Pelosi ran for minority leader, 63 Democrats voted against her in their caucus vote after Pelosi faced a challenge from Ohio Democratic Rep. Tim Ryan.
But in the vote before the full House in January 2017, just four Democrats defected.
Pelosi will come before the full House for a vote in January after new members are sworn in. And in that vote, assuming Democrats have 234 seats, she can lose just 16 of her own members and still be speaker. Of course, Democrats would rather have Pelosi be speaker rather than incoming House Minority Leader Kevin McCarthy, so don't expect Pelosi to lose more than that.
And the rest...
Shutdown odds increase: House Republicans met with Trump to come up with a deal to fund the government before it's slated to run out of money at midnight on Dec. 7. But Trump is digging in his heels over $5 billion in funds for his border wall, and Congress appears no closer to a deal after the powwow.