Hype Daily: 'To All the Boys I've Loved Before' is getting a sequel and more entertainment news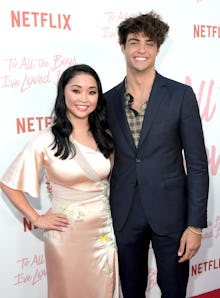 Good morning, readers and happy hump day, as they say. Here are today's biggest entertainment news stories to start your day off right. Enjoy!
The Netflix rom-com To All the Boys I've Loved Before is getting a sequel
The adorable (and popular) Netflix rom-com To All the Boys I've Loved Before is almost definitely getting a sequel, the Hollywood Reporter revealed on Tuesday. A follow-up to To All the Boys is "one of the first movies being discussed" under a new Paramount-Netflix deal in which the major studio will create content for the streaming service.
But forget all the Hollywood business details — all we want to know is whether or not Noah Centineo's Peter Kavinsky will continue being the perfect boy to Lana Condor's Lara Jean Covey. Please give us 90 minutes of him smiling at her and treating her respectfully!
Check out the new trailer for Artemis Fowl
Disney dropped the first trailer for its new film adaptation of the hit young adult sci-fi/fantasy series Artemis Fowl, and it's a pretty spectacular teaser.
The film adaptation, from Kenneth Branagh, stars newbie Ferdia Shaw as Artemis Fowl II, a kid-criminal mastermind who must save his father from an underground magical world. It also features Dame Judi Dench as fairy leader Commander Root. The film doesn't come out until August, but check out the visually stunning trailer here.
A TV series based on Zora Neale Hurston's Barracoon is in the works
Barracoon, the recently discovered book by Harlem Renaissance author Zora Neale Hurston, is now being adapted into a TV series by Lionsgate and rapper Common's Freedom Road Productions, Deadline reported on Tuesday. The book is a nonfiction work based on Hurston's interviews with Cudjo Lewis, the last known survivor of the Middle Passage — the trade route by which enslaved Africans were forcibly transported to the Americas.
Barracoon was never published in Hurston's lifetime, but the manuscript was preserved and the book was published in full for the first time in 2018.
Ava DuVernay inks a $100 million deal with Warner Bros. Television
Oscar-nominated director Ava DuVernay nailed down a $100 million, multiyear deal with Warner Bros Television Group, Deadline reported, her first such deal with any studio. Under the new deal, DuVernay will create shows with the studio and continue working on her other projects, including her Central Park Five drama on Netflix and her action movie The New Gods with Warner Bros. Pictures. Is DuVernay the hardest working person in show business? She's definitely a contender.
Put this on your radar: A Christmas Prince: The Royal Wedding is almost here
Are you running out of cheesy, escapist Christmas movies to watch on Netflix? If you've burned your way through Christmas Inheritance, The Holiday Calendar and The Princess Switch, don't worry because A Christmas Prince: The Royal Wedding, the sequel to 2017's A Christmas Prince, drops on Netflix Friday.
I probably don't need to explain the plot (there barely is one), but check out the delightfully predictable trailer here. And slow down on those holiday movies! It's not even December yet.
This has been Hype Daily, Mic's morning entertainment roundup. It's everything you need to catch up on in the entertainment world and what to look forward to today. Want to receive this as a daily email in your inbox? Subscribe here.