Trump lashes out at Mueller, media after report on cooperation with Manafort legal team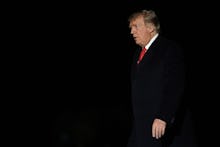 President Donald Trump on Wednesday went on an unhinged tirade against special counsel Robert Mueller and the "disgusting Fake News" media after it was reported that his legal team had been coordinating with that of Paul Manafort, his convicted former campaign manager.
"While the disgusting Fake News is doing everything within their power not to report it that way, at least 3 major players are intimating that the Angry Mueller Gang of Dems is viciously telling witnesses to lie about facts & they will get relief," Trump tweeted. "This is our Joseph McCarthy Era!"
Trump did not offer evidence to support his wild claim, nor did he make clear who the "3 major players" could be that he was referring to.
The outburst came after the New York Times reported Tuesday that Manafort's legal team had been briefing Trump's lawyers on his discussions with the special counsel's office. The briefing was an unusual move that reportedly caused a rift between Manafort and Mueller, and fueled more accusations from critics that the president has been trying to obstruct justice in the Russia probe.
Mueller on Monday accused Manafort of lying to investigators and breaking the cooperation agreement he signed in September to avoid a second trial on charges stemming from the FBI inquiry. In his first trial, in August, the former campaign manager was convicted on eight counts of tax and bank fraud.
Trump has long been frustrated with what he considers the "un-American" treatment of Manafort by the special counsel, according to Rudy Giuliani, one of the president's lawyers. It's become routine for Trump to lash out at the Russia probe, particularly in online screeds, but his recent outbursts have come as the investigation seems to be nearing high noon.
Trump has turned in his written answers to questions from Mueller, who is preparing his final report and is expected to deliver his key findings to the Department of Justice soon. Meanwhile, a battle is brewing over the man Trump selected to lead that Justice Department, Matthew Whitaker, who has been critical of Mueller. All of this is playing out against the backdrop of an incoming Democratic majority in the House, which is likely to increase pressure on the president.
With the rubber beginning to meet the road in the Russia investigation, Trump has intensified his attacks on investigators, the media and his opponents. In a series of tweets Tuesday, for instance, he cast Mueller as a "conflicted prosecutor gone rogue" who is doing "TREMENDOUS damage" to the American criminal justice system and questioned why he isn't going after Hillary Clinton and other of his political opponents.
His latest round of jabs against Mueller on Wednesday also included a meme retweeted from he Trump Train, a Trump fan account, depicting Mueller, Democrats, law enforcement officials and others behind bars, including Mueller, Clinton and Barack Obama.
"Now that Russia collusion is a proven lie, when do the trials for treason begin?" the meme reads.