Margaret Atwood is writing a 'Handmaid's Tale' sequel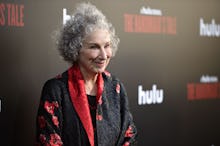 Author Margaret Atwood announced on Wednesday that she's releasing a sequel to her dystopian novel The Handmaid's Tale, decades after it was first released in 1985.
"Yes indeed to those who asked," the 79-year-old Atwood tweeted on Wednesday morning. "I'm writing a sequel to The #HandmaidsTale. #TheTestaments is set 15 years after Offred's final scene and is narrated by three female characters."
The original novel told the story of Offred, a woman struggling to survive a future in which what was once the U.S. has become an extremist, oppressive totalitarian regime that denies women basic rights and subjugates them — forcing a class of women, known as "handmaids," to bear children for the ruling men. The novel has long been heralded as a feminist classic — although Atwood herself has been reluctant to embrace the F-word to describe her most famous work.
Atwood's story has gained new relevancy in the current political moment — first through an award-winning television adaptation on Hulu, now two seasons in, and then through comparisons between the world of the novel and the reality of the United States under the Trump administration. Protesters dressed in the red robes of the Handmaid's Tale universe have become a regular fixture at demonstrations across the country — and even internationally.
Speaking to Mic in August, Atwood addressed the comparisons being made between the world of her novel and the present moment in America. "If we were really there you wouldn't be seeing any protests on the street," she said, "because real totalitarians shoot those people."
Her Handmaid's Tale sequel, The Testaments, is scheduled for a September 2019 release.