4 of the most jaw-dropping assertions from Trump's 'Washington Post' interview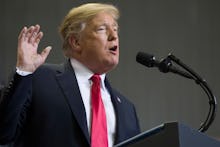 President Donald Trump sat down with the Washington Post on Tuesday for a wide-ranging interview in which he spewed numerous falsehoods and went on incomprehensible rants. The entire thing must be read to be believed, but here are the four most absurd assertions he made during the sit-down.
1. Trump explains why he's a climate change denier
Toward the beginning of the interview, the Post asked Trump why he doesn't believe the dire findings from a climate change report released by his own administration. What follows is a long string of incomprehensible gibberish that is likely to leave many scratching their heads.
"One of the problems that a lot of people like myself — we have very high levels of intelligence, but we're not necessarily such believers," Trump said of believing climate change.
"You look at our air and our water, and it's right now at a record clean," the president said. "But when you look at China and you look at parts of Asia and when you look at South America, and when you look at many other places in this world, including Russia, including — just many other places — the air is incredibly dirty. And when you're talking about an atmosphere, oceans are very small. And it blows over and it sails over. I mean, we take thousands of tons of garbage off our beaches all the time that comes over from Asia. It just flows right down the Pacific, it flows, and we say where does this come from. And it takes many people to start off with."
Number two, if you go back and if you look at articles, they talked about global freezing, they talked about at some point the planets could have freeze to death, then it's going to die of heat exhaustion. There is movement in the atmosphere. There's no question. As to whether or not it's man-made and whether or not the effects that you're talking about are there, I don't see it — not nearly like it is. Do we want clean water? Absolutely. Do we want clean air to breathe? Absolutely. The fire in California, where I was, if you looked at the floor, the floor of the fire, they have trees that were fallen, they did no forest management, no forest maintenance, and you can light — you can take a match like this and light a tree trunk when that thing is laying there for more than 14 or 15 months. And it's a massive problem in California.
Trump then repeated his theory that raking forest floors could prevent forest fires. He previously claimed this technique was used in Finland. But Finland, for its part, has no idea what Trump is talking about.
You go to other places where they have denser trees — it's more dense, where the trees are more flammable — they don't have forest fires like this, because they maintain. And it was very interesting, I was watching the firemen, and they're raking brush — you know the tumbleweed and brush, and all this stuff that's growing underneath. It's on fire, and they're raking it, working so hard, and they're raking all this stuff. If that was raked in the beginning, there'd be nothing to catch on fire. It's very interesting to see. A lot of the trees, they took tremendous burn at the bottom, but they didn't catch on fire. The bottom is all burned but they didn't catch on fire because they sucked the water, they're wet. You need forest management, and they don't have it.
2. Trump slams the Fed chairman he appointed
Trump has been vocal about his frustration with the Federal Reserve raising interest rates as well as his disapproval of chairman Jay Powell, who Trump himself appointed to the role.
He kept that up in his interview with the Post, saying he's "not happy with the Fed."
"So far, I'm not even a little bit happy with my selection of Jay," Trump added. "Not even a little bit."
In a story on the interview, the Washington Post reported Trump chose to nominate Powell rather than renominate former Fed Chair Janet Yellen after being hung up on the fact she is only 5'3".
3. Trump claims he doesn't put his financial interests ahead of the country's own
One of the biggest criticisms Trump has received throughout his nearly two years in office is how he uses his role as president to line his own pockets — going against his campaign promise to "drain the swamp" in Washington.
During an exchange on the United States' relationship with Saudi Arabia in light of the country's murder of Washington Post contributor Jamal Khashoggi in Turkey, Trump said his decision not to punish the country's crown prince is not because of his own financial interest with the kingdom.
"I know him. I know him well, the crown prince," Trump said of Mohammed bin Salman. "And, by the way, never did business with them, never intend to do business with them. I couldn't care less. This is a very important job that I'm doing right now. The last thing I care about is doing business with people. I only do business for us. Somebody said, well, maybe they're an investor in one of his jobs. The answer is no."
Trump does have deep business ties to Saudi Arabia, which have recently come under further scrutiny. The ties go back to 1991, when he sold a yacht to Saudi billionaire Prince Alwaleed bin-Talal for $20 million. In 2001, he sold the 45th floor of the Trump World Tower to the Kingdom of Saudi Arabia.
"Saudi Arabia, I get along with all of them. They buy apartments from me. They spend $40 million, $50 million," Trump told an Alabama crowd in 2015.
Which leads us to...
4. Trump still disagrees with CIA assessment on Khashoggi's death
Trump once again refused to accept the CIA's assessment that bin Salman ordered the brutal killing of Khashoggi. And he used fanciful numbers about how much Saudi Arabia may spend on American military equipment to justify not punishing bin Salman directly.
"Did he do it?" Trump said, referring to bin Salman. "As I said, maybe he did and maybe he didn't, but in the meantime Saudi Arabia's spending billions and billions of dollars in the United States, and I want them to spend it here. I don't want them to spend it in China and Russia."