Republicans block Senate vote on bill to protect Mueller probe from Trump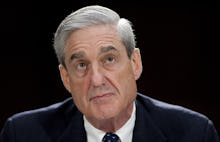 Sen. Mike Lee (R-Utah) on Wednesday blocked a floor vote on a bipartisan bill to safeguard special counsel Robert Mueller's Russia investigation from President Donald Trump.
Sens. Jeff Flake (R-Ariz.), Chris Coons (D-Del.) and Cory Booker (D-N.J.) had attempted to force a vote on the legislation on Wednesday afternoon, but Lee objected, stopping the vote from proceeding.
"We cannot convert an office like this one, an office like the previously-existing Office of Independent Counsel, without creating a de facto fourth branch of government, fundamentally undermining the principle of separation of powers that is so core to our liberty," Lee said. "On that basis ... I object."
The move, which prevented a Senate vote on the bill, blocked the legislation for the second time in a month.
Democrats, along with some Republicans, have long called for legislation to protect Mueller from being fired or kneecapped by Trump, who had reportedly attempted to oust the special counsel in 2017.
Fears that Trump could target Mueller have spiked several times as the president has railed against the Russia investigation over the past year and a half, but reached a fever pitch in early November when he terminated Attorney General Jeff Sessions and replaced him with Matthew Whitaker.
Whitaker, a critic of the Russia probe, inherited the investigation from deputy attorney general Rod Rosenstein, who'd overseen the inquiry since Sessions recused himself shortly after Trump took office — much to the president's chagrin.
Rosenstein, whose own job security has for months been a matter of public speculation, had been a defender of the Mueller probe. But Whitaker, who leapfrogged over the deputy attorney general to become the Justice Department's supervisor of the investigation, has argued that the special counsel's inquiry is "going too far" and publicly discussed ways to shut it down.
Amid heightened concerns that Trump could interfere with or kill the Russia probe, a number of observers and lawmakers have demanded legislation protecting Mueller. But Senate Majority Leader Mitch McConnell told reporters on Tuesday such a bill would be unnecessary because he believes the special counsel is not under threat.
"The president is not going to fire Robert Mueller," McConnell said, calling the bill a "solution in search of a problem."
But Coons on the Senate floor Wednesday said the bill "protects the rule of law" and expressed confidence that it would pass if a vote was allowed.
"History will judge us for how we worked together to confront the challenges that face our nation," Coons said. "The rest of the world is watching."
Booker added Wednesday that the legislation was a "proactive bill" to "prevent a constitutional crisis" with respect to both the Mueller investigation and potential future special counsel probes.
The bill would prohibit the firing of a special counsel without good cause.
Flake, the retiring Republican senator who has frequently criticized Trump, has vowed in recent weeks to block the president's judicial nominees unless a vote is allowed on the legislation protecting Mueller's investigation. "The priority needs to be now to protect the special counsel," Flake said Wednesday. "With the president tweeting on a regular basis, a daily basis, that the special counsel is conflicted ... to be so sanguine about the chances of him being fired is folly for us, I believe."
Trump has intensified his broadsides against the special counsel in recent weeks, tweeting Tuesday that Mueller has "gone rogue" and is "doing TREMENDOUS damage to our Criminal Justice System."
"It's clear, therefore, that something has to be done to protect Mr. Mueller's investigation," Flake said Wednesday.
Flake's stand led to some speculation that the bill could finally be brought to a vote, with Senate Majority Whip John Cornyn saying Tuesday that Republicans are "going to be working with Senator Flake to see what he needs in order to lift his hold."
But Lee and the Republicans ultimately blocked the bill Wednesday, dealing another blow to efforts to safeguard Mueller from Trump's attacks as the Russia probe enters what appears to be its final stretch.
It's not clear what's next for the legislation, but Coons suggested Wednesday that he would continue to push for a vote.
"Despite the objection of my colleague from Utah, I'm convinced that this is an important bill that we should continue to bring forward on the floor of the Senate," Coons said.