The problem with cashless restaurants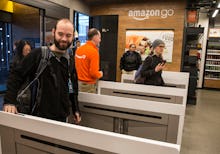 In August, Corey Cash (yes, that's his real last name) opened his first restaurant in Brooklyn, New York. Cash Only BBQ, as its name suggests, only accepts physical money. Cash said the decision to forgo electronic payment methods, like credit and debit cards, was critical as an emerging business owner.
"I opened this place up on a shoestring budget," Cash said in a phone interview. "I had little to no savings, absolutely no credit and just a bank account with a little bit of cash in it. With the extra costs of credit card processing and all these other fees involved, I needed the lowest opening and operating costs possible."
Opening and maintaining small-business checking accounts can be a costly practice. A Chase business checking account, for instance, requires a $12 monthly fee in some circumstances — and that's on top of a transaction fee of 40 cents for every transaction that exceeds 100 transactions in a given month. Cash's restaurant has an ATM available, but he said he absorbs about half of those ATM fees on behalf of his customers. He added that dropping electronic payments has allowed him to lower prices so his menu is more affordable.
"During our soft opening, we had a lot of people scoff at it, like, 'I don't carry money' or 'Money is dirty' — but it's an exclusionary practice to be cashless," Cash said. "[Going cashless] is a horrible practice and it's going to decrease the availability of products for people that don't have a bank account."
In 2018, major companies like Starbucks and Walmart experimented with cashless retail stores. Amazon, the holy grail of online retailers, even tested its first brick-and-mortar, cash-free grocery store, allowing customers to walk in and out without so much as making eye contact with a store clerk.
This trend is likely to continue: A report published in 2017 by the Federal Reserve System found that while cash tends to dominate small transactions, credit and debit card transactions now make up 48% of all purchases, whereas cash is used in just 30% of transactions.
From restaurants to retailers, the rise of swipe-only businesses has forever changed the need to fumble through wallets or hunt down ATMs without exorbitant surcharges. But with all of its ease and convenience, the practice is inherently exclusionary of anyone without the means to sustain a bank account or credit card.
According to a 2017 survey by the Federal Deposit Insurance Company, 6.5% of all U.S. households — comprising an astounding 14.1 million adults and 6.4 million children — are unbanked, meaning they do not have a savings or checking account. What's more, a 2015 study by the Urban Institute found that 360,000 households in New York City alone are unbanked, and another 780,000 are underbanked, which means they do have a checking or savings accounts but still rely on alternative finance services like taking out a loan.
One New York City politician wants to stop the spread of cashless businesses that discriminate against low-income communities by banning them. On Wednesday, New York City Councilman Ritchie Torres introduced a bill that would prohibit restaurants and other establishments from refusing cash outright.
"Paper money is the universal currency," Torres said in a phone interview. "Not everyone has access to credit but everyone at some point in their lives uses money. Cashless transactions could be one option among many, but it should never be the sole option."
The idea for the bill stemmed from Torres' own experiences at cashless coffee shops and cafes around the city.
"It occurred to me that a cashless marketplace might seem benign, but only deceptively so," Torres said. "It has a real-world bias against the impoverished, the homeless, the underbanked, the undocumented, so I saw it as a new frontier in human rights law to protect against what I take to be discrimination in public accommodations."
A society built around a cashless structure has the potential to discriminate against people of color in particular, Torres added. The Federal Deposit Insurance Company found that 36% of black households and 31.5% percent of Hispanic households did not have credit, compared to 14.4% of white households. If cashless payment becomes the norm, businesses will essentially be structured around catering primarily to white customers.
"Making credit cards a requirement for consumption is analogous to making identification a requirement for voting," Torres said. "The effect is the same: You're erecting barriers for people of color [who are] disproportionately underbanked. Those that claim that everyone has access to credit are cloistered in the ivory tower."
"It has a real-world bias against the impoverished, the homeless, the underbanked, the undocumented, so I saw it as a new frontier in human rights law to protect against what I take to be discrimination in public accommodations."
Some businesses see the benefits in going cashless. Dig Inn, the fast-casual restaurant chain, recently announced its own move to electronic payments only in some locations.
"Most of our chefs' time is spent prepping and cooking fresh produce, coaching kitchen teams, creating innovative lunch and dinner specials and getting to know guests," Dig Inn's website reads. "All of this contributes to their growth and development as culinary leaders. But a sizable chunk of each day was dedicated to cash management — two hours, to be specific."
Other food retailers — like Christina Tosi's dessert haven, Milk Bar, and the Mexican restaurant chain Dos Toros — have also adopted cashless payments. McDonald's, too, is testing out a cashless future with a number of self-operated credit card kiosks.
Torres said he understands the benefits of cashless payment methods, namely its ability to help retailers serve customers more quickly, but added that it doesn't change what it means for communities without access. "Efficiency is no justification for discrimination," he said.
Torres' bill would fine businesses that refuse to take cash up to $250 for its first violation and up to $500 for any subsequent violations. Although the bill is only in the early stages, Torres said he hopes it raises awareness about the problem of cashless restaurants and retail spaces.
"My message is that we need to balance the need for efficiency with human rights," he said. "Everyone has the right to freely access goods and services in what should be an inclusive marketplace — and the most inclusive mode of payment is cash, period."