Pelosi wins Democratic nomination for leader as opposition crumbles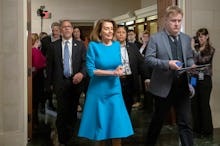 House Democrats on Wednesday nominated Nancy Pelosi to be Democratic leader when the new Congress is sworn in in January.
Pelosi garnered 203 yes votes and 32 no votes — far fewer than the 63 Democrats who voted against Pelosi's leadership bid back in 2016.
Pelosi still needs to win a majority of votes in front of the full House in January, when the new Congress is sworn in, in order to become speaker. And a handful of Democratic lawmakers are still vowing to vote against her speakership.
"We remain united behind our goal of new leadership and intend to vote against Leader Pelosi in Caucus and on the Floor of the House," Rep. Kathleen Rice (D-N.Y.) said in a statement.
Yet without a candidate to run against her, those anti-Pelosi Democratic rebels appear to be fighting a lost cause.
Democrats will be in the majority come January. If too many vote against Pelosi before the full House, Republicans could grab control of the speaker's gavel. Allowing Republicans to control the House after Democrats' historic midterm wins would be political suicide for those anti-Pelosi Democratic rebels, and thus is unlikely to happen.
However, a sign that the opposition is crumbling is that other Democrats who signed a letter saying they opposed Pelosi's speakership bid now appear open to voting for her.
Pelosi, for her part, appeared jubilant at a news conference on Capitol Hill as votes for her leadership were being tallied today.
"We had a most unifying session just now in the House Democratic caucus," Pelosi said. "And it was so inspiring to hear my colleagues place my name in nomination once again for speaker of the House."
Wednesday, Nov. 28, 2018 3:16 p.m.: This article has been updated.