Trump says he may still pardon Manafort: "I wouldn't take it off the table"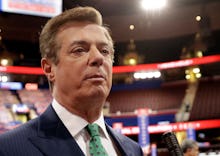 President Donald Trump on Wednesday suggested he may issue a pardon to Paul Manafort — his former campaign chairman who was convicted of eight charges stemming from Robert Mueller's Russia probe.
The comments came as he intensified his attacks on the investigation, and as the special counsel accuses Manafort of breeching the terms of his cooperation deal.
"It was never discussed, but I wouldn't take it off the table," Trump said of a pardon in an Oval Office interview with the New York Post. "Why would I take it off the table?"
Manafort, 69, was found guilty of eight tax and bank fraud charges in August and signed a cooperation agreement with Mueller to avoid facing additional charges at a second trial in September.
But Mueller on Monday alleged that Manafort lied to investigators after pleading guilty, violating the terms of his cooperation deal. On Tuesday, the New York Times reported that Manafort's lawyers had briefed the president's legal team on the former campaign chairman's interactions with the special counsel. Some speculated that Manafort's cooperation with Trump was an effort to secure a presidential pardon.
Trump raged at Mueller on Wednesday in the wake of the report, claiming — without evidence — that the special counsel was pressuring witnesses to lie.
"This is our Joseph McCarthy Era!" Trump tweeted.
Manafort, who was first indicted by the special counsel in October 2017, led the Trump campaign for several critical months in the summer of 2016 — a period that included the Republican National Convention, where Trump officially secured the GOP nomination for president.
Trump, who has purportedly felt that prosecutors' treatment of Manafort is "un-American," has in the past both distanced himself from his former campaign manager and expressed sympathy for him.
After Manafort was convicted in August, the same day Trump's longtime lawyer and fixer Michael Cohen pleaded guilty to campaign finance violations, the president said he feels "very badly" for him.
"Such respect for a brave man!" Trump tweeted.
Trump has repeatedly raised the possibility of pardoning members of his team who have been brought down by Mueller, whose probe the president routinely describes as a "witch hunt." He has also raised the possibility that he could pardon himself if he comes under legal jeopardy.
"As has been stated by numerous legal scholars, I have the absolute right to PARDON myself," Trump tweeted in June. "But why would I do that when I have done nothing wrong?"