A 'Game of Thrones' reunion special is really happening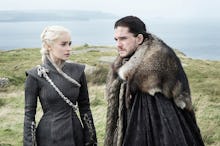 Winter is coming, and so is a long-rumored Game of Thrones reunion special. Entertainment Weekly reported on Wednesday that a reunion special featuring current and past cast members of HBO's sprawling fantasy epic was filmed in Belfast this year. Late-night personality Conan O'Brian served as host, according to EW.
The network confirmed the special, EW reported. It will apparently bring together stars from the upcoming final season and some long-departed faces — including Sean Bean. Bean played Stark family patriarch Ned Stark, who was betrayed and executed by the spectacularly terrible young King Joffrey at the end of the show's first season. (Don't worry, Joffrey gets his comeuppance later.)
Bean first let the news slip about a possible reunion in an interview with the Hollywood Reporter in October, in which he said, "Conan O'Brien did this thing. It was the last episode, so we all got together. It was good! It's funny with work, you don't really keep in touch. You do so many types of jobs in that part of the world. It's just like, whenever I see old friends or even old drama school friends, it's just the same, we pick up where we left off last time." Sounds delightful!
Any additional details about the special are scant, which is understandable considering how secretive HBO has been about anything related to Game of Thrones.
But we do know there's a catch — the reunion special won't air on HBO. According to EW, it will only be available as an exclusive feature on "a new Game of Thrones complete series home video box set that will package together seasons one to eight for the first time." And that box set won't be available until sometime in 2019, after the eighth and final season airs. As for that mysterious final season of Game of Thrones, all we really know so far is that it will premiere in April 2019. Mark your calendars.