Today in Trump's America: Trump doesn't rule out pardoning Manafort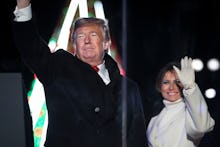 We've made it to Thursday, folks. I don't have any snark for you this morning, but just a word of gratitude that you choose to read this newsletter each day. For more snark and analysis, you can find me on Twitter @CahnEmily.
Here's what's happening in Trump's America:
•Trump is spending his Thursday traveling to Buenos Aires, where he'll attend the G20 Summit. He departs the White House along with first lady Melania Trump at 10 a.m. and arrives in Buenos Aires at 8:05 p.m. Eastern.
About last night: A pardon for Manafort? Maybe.
Trump on Wednesday refused to rule out a pardon for his former campaign chairman Paul Manafort, whose cooperation agreement with special counsel Robert Mueller went up in flames this week after Mueller accused Manafort of lying.
"It was never discussed, but I wouldn't take it off the table," Trump told the New York Post in an interview in the Oval Office. "Why would I take it off the table?"
Reports that Manafort — who was convicted on multiple counts of tax evasion and bank fraud and pleaded guilty to a host of other charges including conspiracy and obstruction of justice — has been relaying information on what Mueller's investigators are probing has sent shockwaves through the legal community.
And Trump's talk of possibly pardoning Manafort further raise the possibility that Trump gets embroiled in an obstruction of justice scandal.
All of that is just the tip of the iceberg in Mueller investigation news this week. The Washington Post also reported Wednesday night that Mueller has evidence of late-night phone conversations between Trump and Roger Stone, whose claims of ties to WikiLeaks' Julian Assange is a key focus of Mueller's investigation.
And another key witness in Mueller's probe, conspiracy theorist Jerome Corsi went on MSNBC Wednesday to admit he lied to Congress and attempted to obtain stolen emails from Hillary Clinton to the Trump campaign.
But Corsi — who was in talks with Mueller's team for a plea agreement — says he is now rejecting that offer.
"I realize I could go to jail for the rest of my life. I'm 72 years old; I might die in jail, but I'm still making this decision," Corsi told MSNBC's Ari Melber.
And the rest...
More scandal at the VA: The Department of Veterans Affairs told Congress it does not plan to make good on GI Bill payments to student veterans, after students reported not receiving funds they were owed, NBC News reported. The news is sure to set off a bitter fight on Capitol Hill.
Stormy situation for Avenatti: Stormy Daniels, one of the women who was paid hush money to keep quiet about an alleged affair with Trump, said on Wednesday her lawyer, Michael Avenatti, filed defamation charges against Trump against her wishes. This is the latest scandal Avenatti — who has been exploring a presidential bid — has found himself in recently.