Michael Cohen reportedly reaches new plea deal with Mueller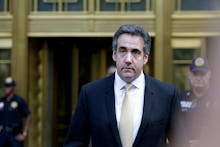 Michael Cohen, the former longtime attorney and fixer for President Donald Trump, is reportedly expected to plead guilty to making false statements to Congress as part of a cooperation deal with special counsel Robert Mueller.
According to ABC News, which first reported on the possible plea agreement, Cohen is due to appear in federal court Thursday in New York City, where he is expected to admit to making false statements to Capitol Hill investigators probing possible collusion between the Trump campaign and the Kremlin.
Cohen has already provided Mueller with more than 70 hours of testimony, which could be potentially damaging to Trump, according to ABC News. The 52-year-old had long been one of Trump's most loyal and ardent aides, and once claimed he'd "take a bullet" for the president.
But in August, he pleaded guilty to eight felony counts, including two campaign finance violations related to his efforts during the 2016 campaign to silence women who allegedly had affairs with Trump.
He implicated the president in his campaign finance violations, telling a New York judge that he committed his crimes "in coordination with and at the direction of a federal candidate for office," a clear reference to Trump.
Trump, however, claimed that what Cohen pleaded guilty to was actually "not a crime" and maligned him for "[making] up stories in order to get a 'deal.'"
Cohen, who now says he is putting his "family and country first," agreed at the time to cooperate with Mueller — even though the eight charges he pleaded guilty to stemmed from a separate investigation conducted by New York investigators working under referral from the special counsel.
It's not clear what he divulged to Mueller in the dozens of hours of meetings, but sources told ABC News that his testimony "poses a potentially serious threat to the president" and that his cooperation has been "crucial to the special counsel's case."