Hotel, hostel or airbnb? How to choose the right lodging option for you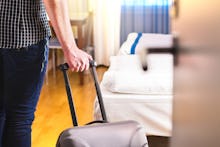 When it comes to preparing for a vacation, deciding on where to go is tough, but deciding where to stay is tougher. From hotels to hostels to Airbnbs, there are more options in choosing a temporary home away from home than ever before. If you're struggling with where to stay or you need a refresher course in potential choices, we've got answers. Here's how you can choose the right lodging based on your destination.
Look beyond lodging stereotypes
For the budget-friendly traveler, there's often a perceived notion among travelers that hostels are the cheapest and most affordable option—at the cost of few amenities and little luxury. Though a hostel's shared spaces and dorm-style accommodations do often make for a budget-friendly place to stay, there are more options than you might think. "Hostels can be misrepresented as only being for backpackers," Kiersten Rich of TheBlondeAbroad.com said. "A hostel doesn't always mean bunk beds and shared bathrooms. Hostels are excellent about helping to book local tours and activities, and providing recommendations. A lot of times they have a bar or restaurant on property that offers more opportunity to meet people."
Likewise, though many hotels may seem out of your price range or too luxurious, there are apps and websites that can help you find a room at a steeply discounted rate. If you're willing to book only 24 hours in advance of your stay, sites including HotelTonight, Orbitz and HotelQuickly promise potential savings on unbooked rooms. And if you plan to frequently travel, Rich suggests inquiring about hotel loyalty programs, which often reward travelers with free stays and savings on their room.
And while Airbnb might be your best bet for cheaper lodging when traveling with a big group of friends, if you're traveling on your own, you may find hotels with comparable rates that come with the benefit of things like concierge services.
Consider the purpose of your trip
Whether you're planning a short vacation with close friends or you're going on a solo excursion to a far-off destination, the purpose of your vacation should play a determining factor in choosing where you'll stay.
As Rich explained, hotels, hostels, and Airbnb all provide a different type of lodging experience. "I think it's important first to identify if you're trying to save money, have a relaxing experience, or meet people, or a combination of all," she said.
For solo travelers that want to potentially enjoy some social time, Rich recommends selecting a hostel, noting that the accommodations often mirror that of a dorm. "I never rule out a hostel as a solo traveler because it is the best way to meet other travelers and offers opportunities to be social." However, for those looking for relaxation and amenities, a hotel might be the better option — especially if you prefer your privacy. As a solo traveler, hotels can provide possible peace of mind regarding your safety, too, as you won't be sharing a room with strangers like in a hostel.
Similarly, consider the activities you're planning for your trip. If lots of sightseeing and nightlife are on your agenda, maybe you don't need more than a place to sleep and shower and can spend less of your budget on lodging. But if you're going away for serious R&R and plan on sleeping in, you may want to allocate more of your resources to a place with a big, comfy bed and a bath where you can soak.
For travelers planning on extended stays, Rich suggests an Airbnb, noting that the service — depending on the host — can often result in an experience that provides all the amenities and comforts of being at home. And while some Airbnb options might not be any cheaper than a hotel, Rich noted that spending extra on either can be worth it if the accommodations are truly memorable.
Do your research
Each lodging option has different qualities that should be considered. To avoid overspending and unexpected surprises after you've checked in, you should always do your research.
If you're starting at hostel-level, Rich recommends inquiring whether the hostel you're considering has quiet hours, sheets and towels available without charge, areas for safely storing your personal belongings, and WiFi. If not provided, you may have to purchase these extra amenities, which can mean spending extra on your stay. Similarly, if you're staying at an Airbnb, you may want to inquire about what cooking supplies and products will be provided by your host.
When it comes to choosing an Airbnb, Rich said that you also have options for dealing with potential privacy concerns. "Keep in mind that you can book a room in someone's house or the entire place to your own," she said. "While I usually book a private place, it can be a cool experience to connect with your host and get recommendations and a local's perspectives."
After considering which option best fits your price range and completing your research, the final say in whether a particular lodging option is right for you should come down to your destination. "Read blogs to find information and recommendations on the best neighborhoods and locations in your destination," Rich said. "Research is very important. Once you've found the area you like, plug it into a booking search engine and read reviews for the hostels, hotels or Airbnb in the area."
To find the most affordable and centrally located place to stay in the area, use websites — like KAYAK, Hostels.com and Priceline — that allow you to compare prices on lodging options. Airbnb also offers a similar service on its site. Sort the options out by distance, find the room or space that fits your budget and needs, and then book.
With your room officially reserved, you just have to sit back, relax, and wait for vacation to arrive.