Russia Anti-LGBT Law: Kremlin Moves to Pass Anti-Gay Rights Law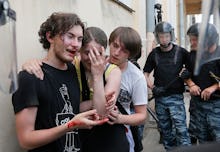 The Russian Orthodox Church and the Kremlin are pushing anti-gay legislation that would make it illegal to provide minors with information that is defined as "propaganda of sodomy, lesbianism, bisexuality and transgenderism" — reported the Associated Press.  
The anti-LGBT legislation would also include a ban on "holding public events that promote gay rights," and could increase fines for public demonstration of affection between persons of the same gender from $16 to $16,000. 
According to the AP, the bill seeks to "promote traditional Russian values," as opposed to "Western liberalism," which both the Kremlin and the church decry as "corrupting Russian youth."
If approved, the anti-gay law would join several other similar initiatives that the Kremlin says seek "to protect young Russians." Some of them include banning and blocking web content and print publications that the government defines as "extremist" or "unfit" — an that critics denounce as a crackdown on "minorities of any kind" (sexual, religious and especially political).