4 Top Colleges Just as Great as the Ivy League Schools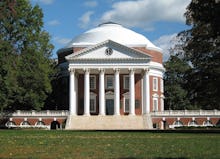 Editor' note, July 25, 2014: In a recent issue of the New Republic, William Deresiewicz argues that America's prestigious Ivy League institutions are turning our children into "zombies." Our overachieving college applicants "appear to be the winners in the race we have made of childhood," writes Deresiewicz, "but the reality is very different. Our system of elite education manufactures young people who are smart and talented and driven, yes, but also anxious, timid, and lost, with little intellectual curiosity and a stunted sense of purpose: trapped in a bubble of privilege, heading meekly in the same direction, great at what they're doing but with no idea why they're doing it."
The cost of tuition may make you think that a school will eventually get you a high paying job, but that's not always the case. Also, schools with high freshmen retention rates and high graduation rates often reflect a great support system within the school. These are important things to consider, rather than just school prestige.
Consider this a guide to a few colleges that can be just as competitive as the Ivy Leagues.  This list is in no order and is in no way a definitive list but hopefully it can help some parents and students in teaching them which data is important to consider in this huge decision.
1. University of Virginia
Freshmen retention rate = 97%
4-year graduation rate = 87%
Forbes Best Buy College ranking = #39
Not only is UVA a large, well renowned public institution in Charlottesville, Va., but its total in-state tuition is only $23,986! An added perk includes that UVA is the public university with the most Rhodes Scholars.
2. University of Florida
Freshmen retention rate = 96%
Forbes Best Buy College ranking = #10
With a total in-state tuition of $19,257 UF has to remain an option on your list.  It's interesting that most freshmen return to the school but they remain out of the top 100 of 4-year graduation rate.  Honestly, I'm not sure if that says anything bad about their school … maybe students just want to stick about to see the next Tim Tebow or Joakim Noah.
3. The State University of New York at Stony Brook
Freshmen retention rate = 89%
Forbes Best Buy College ranking = #29
SUNY Stony Brook is not only one of the best research institutions in the world but it comes at a New York sized bargain with a total in-state tuition that is just $5,570. The short train ride into the city makes the location very attractive as well.
4. California Polytechnic State University, San Luis Obispo
Freshmen retention rate = 91%
Forbes Best Buy College ranking = #19
Cal Poly offers a great education at a great price with all four years of college totaling $23,478 if you're from California. If you're interested in getting your degree in engineering, the school has 80+ labs just for the engineering school! It's also halfway between LA and San Francisco so that you can spend your time away from school evenly between NorCal and SoCal.
Do not get me wrong, the Ivy League schools are great institutions that may make up for expensive price tags with the social capital your network brings you. However, it is also good to keep your options open! Many great schools that will offer you great experiences come cheaper than your typical name brand private institution.
For this piece, I used two rankings lists: the U.S. News ranking for freshmen retention and the Forbes Best Buy Colleges rankings. (When available, I also include the U.S. News ranking for 4-year graduation rates.)
READ MORE: 5 Top Business Schools Just As Great As Harvard and Wharton