Nelson Mandela Dies and the World Loses One of the Greatest Leaders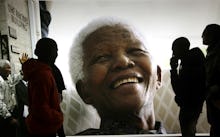 On Thursday, it was announced that former South African President Nelson Mandela had died, at age 95.
Mandela had a number of issues with his health in recent years, including repeated hospitalizations with a chronic lung infection. The leader had been listed in "serious but stable condition" for since he entered the hospital June 8.
President Barack Obama, in a speech, said: "Mandela achieved more than could be expected of any man; he lives for the ages."
Mandela is a true hero of our generation. In a single lifetime, Mandela has accomplished what most men couldn't do in several hundred. He brought a nation from the darkness of apartheid to the light of democracy, and he did it all while remaining an idealist at heart.
Nelson Mandela was born in 1918 in rural South Africa. At the age of nine, Mandela's life was changed forever when his father died of an unidentified disease. The death weighed heavily on Mandela, who vowed to uphold his father's "stubborn sense of fairness" and "proud rebelliousness," attributes that shaped his future.
Fast forward to the late 1940s. The newly-formed National Party was instituting apartheid, a system of racial segregation based on white supremacy. Over time, conditions for South African minorities worsened, as residential and establishment segregation led to complete abolishment of citizenship for black individuals.
It was a time of terror for many South Africans, and it was a time when Nelson Mandela chose to stand for what was right and just. Using strikes and organized campaigns, Mandela led thousands of people in protesting the apartheid regime. One of his biggest triumphs was a Congress of the People that brought together various racial groups of South Africa to unanimously call for democracy.
It was 1962 when Mandela was arrested for attempting to start a guerrilla war and sentenced to life imprisonment. He would spend the next three decades of his life in prison, initially denied all contact with the outside world and given menial tasks like breaking rocks into gravel.
Most men would have withered, but Mandela persevered. He created a program where prisoners would give lectures on topics in their expertise. He led debates on political issues within jail cells. He read and gardened and wrote. Slowly, he was given more privileges and began correspondence with international leaders.
Finally, in 1990, when anti-apartheid President de Klerk came into power, he freed Mandela unconditionally. In South Africa's first general election in 1994, Mandela won. It was his years as president, from 1994 to 1999, that Mandela changed a great many things in South Africa. Promoting the country as a "Rainbow Nation," Mandela knew that they had to find a way to move on from apartheid. To that effect, he created a Truth and Reconciliation Committee that investigated the war crimes, giving amnesty to those who volunteered truthful testimony, and released a detailed report to the public. It was a way to acknowledge that apartheid would never be forgotten but also a way to heal from its wounds.
Mandela also knew that he had to close the gaps between white and black South Africans, and he made tremendous progress during his term. In his short five years of rule, over 3 million people gained access to phone lines, 1.5 million children joined schools, 500 clinics were built, 2 million people got electricity, 3 million people gained access to water, and 3 million people received adequate housing.
In 1999, after seeing his goals come to fruition, Mandela retired from politics. Another five years passed in charity and social justice, and in 2004, aged and tired, Mandela said he was "retiring from retirement." He spent the last few years of his life in relative solitude.
From villager to revolutionary to political prisoner to president, Nelson Mandela has worn many hats in his lifetime. But his biggest role of all was a symbol of peace and justice around the globe. He's been awarded the Nobel Peace Prize and its equivalent from countless countries. His writings have served as inspirations for leaders around the world. His story has been used as the justification for other groups rising against oppression.
And at the center of this magnificent legacy has stood a man who truly believed in equality and in justice and peace. He proved that idealism and optimism can serve the world greatly if they are tempered with persistence and dedication. There will never again be someone quite like Nelson Mandela.