6 Haunted Houses That Will Completely Traumatize You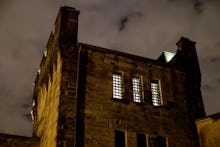 A warning to the faint-hearted: you should probably stop reading. We've compiled a list of the six most terrifying haunted houses across the country that will be sure to shake you up this Halloween season. These ghastly attractions offer more than ghosts, goblins, and ghouls. If you think you're courageous, these traumatizing haunted houses may make you reconsider.
1. Terror Behind the Walls
Located at Philadelphia's now-defunct Eastern State Penitentiary, Terror Behind The Walls has been called one of the three must-see haunts in America by Haunted Attraction Magazine (it's even frightening that exists). The prison, which now stands in "a state of profound, eerie ruin," was once inhabited by notorious criminals like Al Capone. Many say the cell blocks themselves are haunted, and the ruins have been featured on Syfy's "Ghost Hunters," FOX's "World's Scariest Places," and MTV's "FEAR." This Halloween, for the first year ever, Terror Behind the Walls has new rules: visitors may be touched, grabbed, or held back from their groups by interactive actors throughout the haunted journey.
2. The Darkness
The Darkness, located in St. Louis, MI, has been haunting even the most daring visitors for 20 years. The attraction is renovated each year to incorporate new and terrifying pop-ups, animations, and 3D adventures. It includes two floors of fright plus 17,000 square feet of scream rooms and 3D terror visions. It has been voted one of the best haunted houses in the nation by Hauntworld.com and was recently featured on The Travel Channel's "Making Monsters."
3. Disturbia: Torment of Fears
Located just outside of Chicago in Addison, IL, Disturbia: Torment of Fears is more than a haunted house. Located at the Links and Tees golf course, this ghastly attraction occupies a 15,000 square foot landscape. According to the Huffington Post, Disturbia features 25 scare zones, a room ill-suited to those who fear clowns, and another cavern where monsters in cages prey on passersby. The makers of disturbia devote lots of time to the art of terror: they begin setting up the haunted house each year on July 1. According to Chicago Now, Disturbia deserves a spot on your "must see list."
4. Thrillvania
Thrillvania is your Halloween nightmare: a Texas Chainsaw Massacre come true. Encompassing 50 acres of haunted land, it is one of the largest houses of terror in the country. It is located in Terrell, TX and, according to Reader's Digest, its annual attendance of over 20,000 fear-seekers makes it one of the most impressive haunted houses in the nation. The park contains four attractions including a "labyrinth of terror" and "trail of torment." 
5. Nightmare New England
Located in Litchfield, NH, Nightmare New England is not only one of the creepiest haunted houses in the Northeast, but also one of the top terror destinations in the country. According to Reader's Digest, the size and the diversity of this attraction "offers something to thrill even the boldest of Halloween fanatics." It has been praised by critics like Top Haunts Magazine, Haunted Attraction Magazine, and America Haunts and is recommended by Travel Channel, Yahoo Travel, and the Boston Globe. 
6. Headless Horseman
What screams Halloween more than Sleepy Hollow and the folkloric Headless Horseman? Head to Ulster Park, NY to experience the legend at Headless Horseman, one of the most acclaimed haunted houses in the country. Complete with a terrifying corn maze, haunted hayride, and spooky Halloween show, Headless Horseman was named one of the top three haunted houses in America by Hauntworld.com last year.