Pfc Bradley Manning: Who Is the Wikileaks Whistleblower?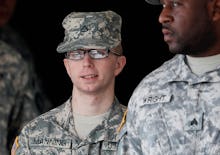 Bradley Manning is an Army soldier who allegedly leaked the largest set of restricted documents ever leaked to the public, comprised of 250,000 diplomatic cables and 500,000 army reports — including  videos of the July 12, 2007 Baghdad airstrike and the 2009 Granai airstrike in Afghanistan — to Wikileaks. He was arrested in May 2010 after computer hacker Adrian Lamo told the FBI that Manning, who was assigned to an army unit near Baghdad, had downloaded and shared the material after alleged frantic exchanges with the then anonymous online user. 
Manning was controversially held at the Marine Corps Brig, Quantico, Virginia, under Prevention of Injury status (solitary confinement) from June 2010 to April 2011, when he was transferred to Fort Leavenworth and was able to interact with other inmates. He pleaded guilty in February 2013 to 10 of 22 charges, which could carry a sentence of up to 20 years.