Apparently, 'How I Met Your Mother' Thought They Could Get Away With Yellowface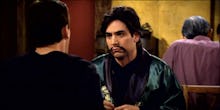 The indolent racism of prime time television strikes again on season 9 of CBS' (slowly dying) How I Met Your Mother (HIMYM). After Monday's episode "Slapsgiving 3: Slappointment in Slapmarra," the Twitter community blew up in reaction to the show's stereotypical portrayal of Asian culture.
The episode is centered on the art of doling out the perfect slap. Marshall (Jason Segal) seeks assistance from a trio of Asian sages (barely) reminiscent of a Kung-Fu flick: Red Bird (Colbie Smulders), White Flower (Alyson Hannigan) and 'the Calligrapher' (Josh Radnor). The sages use highly- affected accents, drink lots of tea and wear kimonos. The result is embarrassingly bad comedy, and the sort of lazy racism readily available on today's sitcoms.
The hashtag #HowIMetYourRacism soon ignited, embodying a range of emotional reactions from "My race is not a costume" to "get over it."
The creators' apologized, claiming the caricatures were meant to be a tribute to Kung Fu rather than a racist gesture.
But HIMYM's satire was neither intelligent nor fair given the show's all white cast, and the fact that all nine seasons have significantly lacked diversity.
That Asian caricatures are even played by the regular white cast members is a particularly egregious move.
If racist writing is a craft failure, this episode bit the big one.