2 Embarrassing Reasons We Still Like the Dallas Cowboys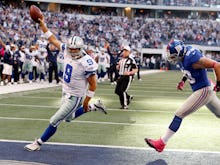 Are the Dallas Cowboys are still "America's Team?" ESPN reporter Darrell Roven said, "The fact that we're still asking if the Cowboys are still 'America's Team' when they've only won a couple of playoff games in a decade and a half shows you how big they are." There are 32 NFL franchises and the team's performance on the football field has been called a laughing stock. So why are the Cowboys still "America's Team?"
Because of these two reasons: Money and popularity. 
Jerry Jones is the reviled, or envied, owner of the Cowboys. He bought the team for $180 million in 1989 and Forbes valued the team at $2.3 billion. Jones understood that an NFL franchise is a brand with value. According to Marc Ganis, president of consulting firm Sportscorp Ltd., "It's extraordinary how the Cowboys convert publicity into revenue." He added, "The Cowboys had the better vision and execution ... Management counts."
The team has the largest NFL stadium (partially paid for by Arlington, TX) and negotiated a naming rights deal with AT&T worth $17-$19 million per year. Jones has turned it into a revenue generating machine. The cheerleaders only bring in an extra $1 million per season, but their advertising value cannot truly be calculated. Their high kicks, pom pom routines, uniforms, and annual swimsuit calendar make them icons. Their TV show is in its 8th season. To merely say that they've "expanded the Dallas Cowboys brand" is a huge understatement.
Robert Ryan coined the nickname "America's team" in 1979 and it is often said that the team's popularity is because aging baby boomers remember the glory days. But the findings from this article —which gathered raw data from Facebook — contradicts that belief. The Cowboys are the most "liked" team, as shown below.
The data was analyzed in several ways. One way looked at a team's ability to attract fans outside their local markets, using the number of Congressional districts won. Dallas came in first place again.
Another analysis looked at gender. The NFL is making an effort to attract more female fans. The Cowboys did well among women ages 13-39, with 20% more fans in this demographic than predicted. Overall, 63% of all NFL fans between the ages of 13 and 17 are males. The Cowboys are the only team with more female fans between the ages of 13 and 17 than male fans.
Apparently, they don't need to, but winning would be nice. They won the NFC East in 2007 and 2009 and may win it again this year. As of Oct. 15, the Giants were 0-6, the Redskins 1-5, leaving the Eagles and Cowboys tied at 3-3.
Success in America is hard to define, but it definitely involves some combination of money and popularity. With that in mind, it's easy to see why The Dallas Cowboys are still "America's Team," after all.