NYC Mayoral Debate: Candidates Need to Focus on the City's Entrepreneurs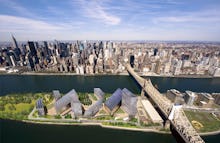 Young New Yorkers should take note of Republican Joe Lhota and Democrat Bill de Blasio's stances on small-business policy during this month's mayoral debates. New York City has been home to a startup boom in the last five years, mostly run by the 18-30 crowd, but unfortunately the city not exactly friendly to small businesses just yet, due to high registration fees and complicated tax codes. If New York wants to keep millennial talent and creativity here, the candidates would do well to touch on the substantive issues that concern startups and entrepreneurship in the city, lest we lose out to cities such as Denver, Charlotte, or Austin. 
Over the past several years, New York City's tech startup scene has grown exponentially, trailing only Silicon Valley and having over 100 tech mergers and acquisitions valued at over $8.3 billion. The city's tech and information industry is the second largest contributor to the private sector by wages, according to a study commissioned by Mayor Bloomberg's private foundation, and generates $30 billion in annual wages. Brooklyn's tech sector grew faster from 2007 to 2012 than that of any other urban center except for San Francisco, and tech employment there grew by 24%. 
One key factor in the startup boom is the high importance of millennials to the industry's growth and sustenance. In just one year, the number of 18-to-24-year-olds who planed to start their own businesses jumped 25% to 19.8% in 2012, according to Global Entrepreneurship Monitor U.S. Report. Areau universities such as Baruch College and Fordham are opening up incubators and centers for entrepreneurship. Most notably, Cornell University plans to build a $2 million technology center on Roosevelt Island on a grant from Mayor Bloomberg to teach entrepreneurship and programming skills.
At the same time, the city is by no means friendly to small businesses. According to the 2013 Thumbtack survey, we got a "C" in overall business friendliness and many entrepreneurs are starting to prefer Denver. At the heart of the low ratings are steep taxes, more than double the rest of the country's tax rates, along with regulations and licensing requirements that can be hefty for small companies. For example, New York State imposes a "publication" requirement for LLCs, which can be upwards of $1,300 in Manhattan. For millennials, who don't have a lot of capital pay their rent and groceries let alone finance a small business , it can be a harsh environment for entrepreneurs.
So far, both candidates have patronizingly coddled the startup scene but have not taken a substantial stance on addressing entrepreneurial woes. Joe Lhota unveiled a new campaign policy at the end of September to help small businesses, criticizing Bloomberg for treating mall businesses like "an ATM machine," but praising his initiatives to turn the Brooklyn Navy Yard into an industrial park. Lhota if elected would also look to replicating a technology campus similar to Cornell's in each borough. In an interview to Inc. Magazine this August, Democratic candidate Bill de Blasio also criticized Bloomberg's system of fines and regulations on small business and says he would like to make registering for business a "one stop shop." 
If millennials want to keep New York City a startup stronghold, they should keep their ears out during debates for Lhota and de Blasio's opinions on small business policy in New York City. The city cannot promote entrepreneurs here if they don't improve the business environment for them, billion dollar campuses notwithstanding. Millennials may not yet have the political muscle of older generations, but given the importance of startups to the city at this time, it is a good starting point for us to flex.