The Latin American Country That Shows Up the U.S. On Trans Rights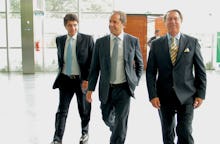 Last week six-year-old Luana of Argentina, a transgender girl, received her new national identity card only two weeks after Buenos Aires mayor Daniel Scioli agreed to change it. Luana is the first young person in the world to change her gender without undergoing a court process. 
It's not the first time Argentina has outpaced the United States on civil rights. Argentina was the first Latin American country to approve same-sex marriage in 2010. That victory came a decade after a 2002 civil union ordinace passed by the city of Buenos Aires. The ruling granted equal rights to same-sex couples who live in Buenos Aires and have been together for at least two years.
The city's ordinance was the first step to ensuring equal marriage rights throughout the country. 
Argentina is unique in its localized focus on equal rights for all, regardless of sexual orientation or gender identity. Importantly, that includes trans people.
Last year Argentina approved a gender rights law guaranteeing adults the right to change genders and birth names without getting approval from a doctor or judge. The law also includes guaranteed access to gender-affirming surgery or hormone therapy, if desired. Under that law, public and private health care providers alike have to provide services at no extra insurance charge. 
Individuals under the age of 18 can also affirm gender legally with their parents' approval. Luana's is the first monumental case protected by this provision.
It's important to note that in Argentina, you don't have to undergo surgery or change your physical appearance in order to legally change your gender. That's not the case in many U.S. jurisdictions, where physical changes are required before requesting a document change.
Author of Fixing Sex Katrina Karkazis told The Huffington Post that Argentina's gender rights law is "incredible."
"There's a whole set of medical criteria that people have to meet to change their gender in the U.S., and meanwhile this gives the individual an extraordinary amount of authority for how they want to live," she said of Argentina's law last year.
The U.S. falls short when it comes to equality for transsexuals. Media tends to lump trans rights together with gay rights, two topics which, while certainly related, are not the same. PolicyMic's own Thomas McBee wrote earlier this week for The NYT's "Room For Debate" blog about the importance of sharing trans stories in addition to gay ones as a way of increasing visibility of the trans community. 
As Thomas writes, gay and trans lives are "entwined, not identical." This year Pew Research Center's recent survey of LGBT Americans  scarcely mentioned the transsexual community, represented by a small 5% of the survey's respondents. The survey did claim that "transgender adults appear to be less involved in the LGBT community than are other sub-groups," but it didn't consider why in detail, or have much information about trans lives in general.
Meanwhile, in Argentina, officials didn't need to conduct a research survey to conclude that all individuals, regardless of age, have the basic right to decide how to express themselves.
"Society has grown up. We aren't the same as we were before," Argentine Sen. Daniel Filmus told The Huffington Post the same day Argentina approved same-sex marriage. 
Part of that maturity comes from Argentina's dark, not-so-distant history of state-sponsored oppression. During The Dirty War (1976-1983, respectively) approximately 30,000 Argentines "disappeared" at the hands of right-wing military officials (who were, of course,  trained by the C.I.A.) The military targeted leftists, especially activists, homosexuals, trade unionists and suspected socialists.
In 2011 Argentina opened the Sexual Diversity Memory Archive, a collection of accounts from three dozen victims who were brutalized during the dictatorship simply for being lesbian, gay, or transgender. This willingness to expose and dissect the horrors of the past suggests the country is open to a brighter future.
Argentina has risen up to surmount its past struggles. The country serves as a prime example for trans and gay movements everywhere to follow. 
Keep watching, U.S.A. Maybe we'll learn something.