Inside the Crowdfunding Revolution, and Why You Should Be Part Of It Too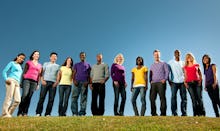 According to a recent Gallup poll in 2012, 61% of Americans say that they'd prefer to be their own bosses. A little bit too telling, maybe?
If you are serious about your business idea and you think you can make a change, crowdfunding should be your ultimate funding option.
Americans and other folks in the world want to be independent and run their own businesses, and crowdfunding has become a very desirable alternative to traditional venture capital. You shouldn't have to create the next Facebook to get access to capital. There are many other creative products and services that could make our lives so much easier and more efficient. So let's take a look at what the crowdfunding industry is, and how it works.
Crowdfunding has been a common practice since the turn of the century. Artistshare was one of the first American crowdfunding platforms to allow such a phenomenon to thrive. Back then, 89% of funds pledged were paid out. Times were good. But, now times are even better. Crowdfunding research firm Massolution estimates that in 2012, crowdfunding transactions totaled as high as $3 billion, or twice the 2011 figure.
Crowdfunding is also not only limited to Kickstarter or Indiegogo, or other North American companies. Crowdfunding is a global phenomenon. At least 18% of crowdfunding platforms exist elsewhere. Massolution's research found out that the number of crowdfunding platforms exceeds 536 by now. And even if the U.S. (191 platforms) or North America has the lion's share of them, participation is not bound by geographical location. You could reside in Bangladesh or the Middle East and still run your campaign on any crowdfunding platform. 
Now, why should crowdfunding be your ultimate start-up funding option? Simply put, because these platforms are making money. Kickstarter made $6 million in commissions in 2012, only three years after the launch of the website. Monthly pledged dollars have increased from $0 at the start of the website in April 2009, to $7 million in April 2011 — a 7,000,000% increase in just two years.
It gets even better. Kickstarter has raised $836 million in recent months. The website platform hosted 50,388 successful crowdfunding campaigns with more than 900 projects exceeding $100,000 in pledged capital goals. Forty-nine successful fundraisers even managed to raise a million dollars.
Nevertheless, there are many misconceptions about crowdfunding that turn many entrepreneurs with authentic business ideas off. One of them is that you have to have to turn your perfectly profitable business idea into a charity to be able to sign up for a crowdfunding campaign online. This is absolutely not true. 
The crowdfunding platform market contains many options and the way crowdfunding differs from traditional venture capital is its wider and more democratic reach. Crowdfunding allows you to reach out to more than a limited number of risk-averse investors in a tough economic downturn. Funders (also known as backers) can be anybody from anywhere. Kickstarter counted over five million backers for its various projects, 20% of whom were repeated backers.
n addition to all this, governments are catching on too. The U.S. Congress passed a new act, the Jumpstart Our Business Startup Act, or JOBS ACT, which has lifted an 80-year-old ban on public fundraising and limitation on "accredited" investors. T
With all this in mind, it's clear that crowdfunding is becoming the best alternative for startup funding. It expected that the various crowdfuding platforms will have an annual $500 billion growth in the next years. Access to capital will be even more abundant as the already existing platforms will certainly grow their brand awareness, trust, and equity. More developers will also copy these business models either locally, in the many regions of the United States, or globally, literally in every language and every other region.