Forcing Cable Providers to Offer à la Carte Channels is a Bad Decision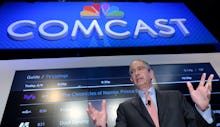 When buying cable, most companies offer bundled channels, i.e. a group of channels. Your favorites ones (say, ESPN) might be in a bundle, but you end up paying for channels you don't need like the Soccer Channel. To do away with such complications, Canadian Industry Minister James Moore will propose new legislation that would make it easier for customers to choose channels à la carte (individually), as a way to show that the Conservative Party is friend on the middle class rather than of big business.
However, don't think that Canada has suddenly become a free-market model, because cable is still highly regulated by the Canadian Radio-Television Commission (CRTC, the equivalent of the FCC). For starters, whenever buying cable, a customer has to have at least as many Canadian channels as there are "foreign" channels. Also, whichever bundle/à la carte selection he gets, it always comes with channels that would be unlikely to be chosen, like APTN.
And even if we consider unbundling, which the CRTC started last year, it comes with a catch: Choosing fewer channels is likely to be proportionally more expensive than getting 250 of them. To get around those costs, many channels would disappear either because they would be too expensive or because their cost would keep buyers from obtaining channels from the former bundle.
ESPN is a often-cited case in this dilemma in the U.S. Choosing this channel alone could cost customers up to $30, five times more than it costs to get bundled with other sports channels. This would yield less viewers – only 20% would take it – and less advertisement revenues for everyone, as sports channel rely heavily on that source of revenue.
Furthermore, for once, free-marketers and statists both agree that forcing unbundling would be detrimental for everyone. On the "right", bundling is seen as efficient because of the high cost of operation for cable, whereas on the "left", unbundling is seen as detrimental for specialized channels, which would probably not exist due to very limited audiences.
In other words, be it from James Moore or John McCain, government shouldn't meddle more into telecommunications. Considering the number of options like Netflix and Hulu, customers have ample choice to satisfy their TV needs. If there should be an intervention, it should be to deregulate so more competitors can come in. As it stands, the CRTC and the FCC both hamper competition, which results in higher prices.