4 Cult Shows You're Not Watching, But Should Be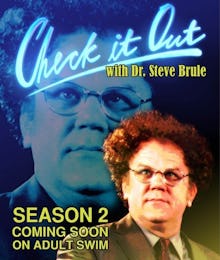 Television is currently in a state of constant artistic achievement. We live in a golden age of television programming. The biggest problem with living in the age of TV is that for everyone show that you follow, 10 other equally good shows end up slipping through the cracks. It's essential to have a clear plan of attack when it comes to viewing. You have already got a drama to follow, whether it's: Homeland, The Walking Dead, American Horror Story: Coven, or Ironside (if you are a glutton for punishment); and everyone follows a trashy, garbage reality show (Duck Dynasty, The Voice, and anything on TLC). So it stands to reason that you already have a comedy series that you are very invested in as well.
Not so. The networks are silently screwing you out of your favorite comedies. Shows that we love are being moved away from us rapidly. It's Always Sunny in Philadelphia and The League have been moved to FXX, a channel that literally nobody has. NBC is slowly gutting all of the lovable characters from their shows — Rob Lowe and Rashida Jones are leaving Parks and Recreation, and Donald Glover is leaving Community — and FOX's fall comedy schedule is atrocious. Not even Seth Green likes Dads. So where are you, the discerning consumer to whom TV has promised everything, supposed to find your comedy fix? The answer lies in the back-alleys of televised programming — on the IFC's, and the Adult Swim's of the world. So here are five amazing, obscure comedy shows that you should add to your viewing schedule.
1. 'Check it Out'
Via GarbageEater.
Remember Tim and Eric? Well, Check it Out is the brain-child of Tim Heidecker, Eric Wareheim, and Oscar-nominated actor, John C. Reilly. Check it Out features Dr. Steve Brule, an early morning PBS-style talk show host who may or may not actually be a doctor. He also may or may not be mentally stable. The average Check it Out episode lasts about 15 minutes and is glorious.
Why you don't watch it: You've never heard about it, ever. If you have heard of it, it sounds like an SNL skit that has gone on far too long.
Why you should watch it: Check it Out is consistently hilarious and it's 15-minute runtime makes it very digestable and accessible. While it may take a while to get used to Check it Out's idiosyncratic qualities, you will laugh until your insides hurt.
2. 'Portlandia'
Via Foreverbummedinasandcastle.
Oh, Portlandia, gem of the IFC line-up. How the hipsters love you. Portlandia is the quintessential irreverent sketch comedy series for fans of Sleater-Kinney, Fred Armisen, and hipster culture (meaning loving to hate hipsters) everywhere. Unlike Check it Out, you have probably heard of Portlandia, but more than likely have never actually watched it. 
Why you don't watch it: That nasty hipster connotation. The word seems to follow Portlandia. After all, didn't hipsters think that James Franco's version of William Faulkner's As I Lay Dying, was profound?
Why you should watch it: Sure, the show may be geared at hipsters. But, Portlandia is legitimately funny in it's own right. Featuring some of the strongest improv comics in the world — Kumail Nanjiani, John Mulaney, and Jeff Goldblum — Portlandia is a show that can appeal to any type of comedy lover.
3. 'NTSF: SD: SUV'
Via Swedishfishrule.
NTSF: SD: SUV is short for National Terrorism Strike Force: San Diego: Sport Utility Vehicle. NTSF: SD: SUV is a not-so-subtle parody/satire of the NCIS-type shows of the world. Featuring the talents of Paul Scheer, June Diane Raphael, and Kate Mulgrew (Captain Janeway and Red from Orange is the New Black) NTSF: SD: SUV has one of the strongest casts on the Adult Swim network. Just like it's Adult Swim counterpart, Check it Out, NTSF: SD: SUV also has a 15-minute runtime, which is ideal for a show where the premise gets old quickly.
Why you aren't watching it: Firstly, it is on late at night. Like insomniac late. Secondly, the title is pretty confusing.
Why you should watch it: It's excessive, but the way the show plays on crime show tropes is really funny. Also, it has Kate Mulgrew, and you like Kate Mulgrew ... everyone likes Kate Mulgrew.
4. 'Comedy Bang! Bang!'
Via IFC.
Comedy goes in strange new directions with this live show-turned-podcast-turned-television show. Comedy Bang! Bang! is the brainchild of podcast host Scott Aukerman and the musician/comedian Reggie Watts. Comedy Bang! Bang! is an odd show. It is a talk show that is structured like a variety sketch hour, and it features famous actors and comedians (Sophia Vergara, Seth Rogan, Jon Hamm, and David Cross, for example) portraying either themselves or characters that they have invented for the show. It's an idea that should not work, but somehow does.
Why you don't watch it: Probably this segment from one of Comedy Bang! Bang!'s latest episodes featuring a miniaturized Bobby Moynihan. The show is absurd and surrealistic, and that makes it either entertaining or unwatchable (depending on your own personal practicalities). 
Why you should watch it: It may be surreal, but Reggie Watts has got you covered. He has been one of the most consistently funny people on television since long ago when Kristin Wiig was on SNL. The show has a little bit of something for everyone: skits for the comedy cravers, and Jon Hamm for everyone ... everyone loves Jon Hamm.