United Airlines Ticket Glitch Leads to Cheap Flights — Again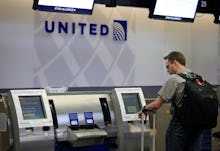 On Monday, United Airlines experienced a computer glitch that allowed customers to purchase flights for next to nothing. I personally purchased nearly $14,000 worth of flights for under $300, including a first-class, round-trip flight to Paris for $150.
A similar problem happened last month on United and the company had elected to honor the flights that were purchased during the glitch. Around 8 p.m. on Monday, at which time the glitch was still allowing me to purchase cheap flights, a United spokesperson said that they would not not honor these reservations.
The glitch worked like this:
1. Log in to United.com with your frequent flyer information
2. Choose a flight you wanted searching by "Award Travel"
3. Open a separate tab and select the exact same flight searching by "Price"
4. Refresh the first tab
5. Refresh the second tab
6. Quickly select the "Complete Purchase" button that appears for a fraction of a second.
7. United accidentally awards you 200,000+ award miles, and now your weekend getaway to Barcelona is $60.
If 100,000 others booked flights as I did, this could easily be a billion-dollar mistake — which is why I'm not holding my breath to see if United will honor these flights. But what will United do exactly? Will they refund our money in full? Transfer our money into mileage points?
Surely they couldn't make everyone actually purchase the flights at face value.  But if they did, I guess the $14,000 joke would be on me.
Were you able to take advantage of the glitch? Let me know on Twitter!