Loyalty of Chicago Cubs Fans Goes Far Beyond Baseball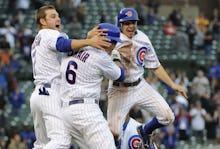 It's been 68 years since the Chicago Cubs played in a World Series and 105 since they last won one. Seven decades have come and gone with nothing more than the small delights of an occasional divisional championship or postseason wild card spot, leaving baseball fans wondering when the long drought would ever end for the weathered Chicago team. This week marks 10 years since North Side fans helplessly watched as the closest attempt at a return to the World Series fizzled over seven games against the Florida Marlins, leaving one unfortunate spectator to bear the brunt of that loss, earning him scapegoat status in the decades-long saga of Cub fan agony. As painful as looking back may be, the bigger point is this: Whether the Cubs are any closer to a postseason return, Chicagoans will stick by their team, and the reasons go beyond baseball.
The Cubs are an underdog. The narrative of coming so close before witnessing it slip away has produced a culture of nostalgia steeped in the most romantic aspects of the game of baseball. The identity of the Chicago Cubs weighs heavier in the hearts of the fans than the agony from the team's failures do.
People in Chicago have gone to their graves waiting for a glimpse of Cub victory; generations watched decades pass, hoping and believing it would happen in their lifetimes.
It's interesting to note how few of the players and coaches comprising the 2003 Cubs are even actively involved in major league baseball anymore, most notably Dusty Baker, who was just fired by the Cincinnati Reds, after six seasons of managing. As distant as that era in Cubs history may feel, the team is no further away from lasting heartache, especially after finishing the 2013 season with a record of 66 wins and 96 losses, coupled with the firing of manager Dale Sveum.
As if things couldn't appear bleaker, the team also just lost arguably the most promising prospect to replace Sveum when the Yankees announced last week that they had worked out a tentative agreement to extend the contract of manager Joe Girardi, a former Cubs catcher, and one-time World Series-winning skipper.  
At some of the bigger games this past season, attendance was spotty, hundreds of season ticket holders dumped their packages after last season. Fans are seemingly tired of shelling out money to see their team lose so often.
But still, they have not completely disappeared over the last 105 years of loss after loss, after the heartache that comes with each failure. They've endured it.
As it was said so eloquently from the lips of Billy Beane in 2011's baseball drama Moneyball, "If we win, on our budget, with this team ... we'll have changed the game. And that's what I want. I want it to mean something."
On the night of October 14, 2003, the Chicago Cubs were five outs away from returning to the World Series, before a puzzling meltdown ensued, and provided more material to add to a six decade long litany of Cub diversions, most colorfully including a Shea stadium stray black cat and a billy goat used as a hex on the team.
There's not a soul in Chicago who could reliably predict the next postseason appearance of the Chicago Cubs. I would only borrow the words of veteran Cub third baseman, radio broadcaster, and ardent fan Ron Santo, who passed away in 2010, never seeing his team win a championship in the 50 years he was involved with the organization. He summed up the hope of any baseball fan that their team would someday win, by simply saying, "Wait til next year."
One can only hope the fans will be there next year.