Stuffed Red Peppers: The Recipe You Need to Try This Fall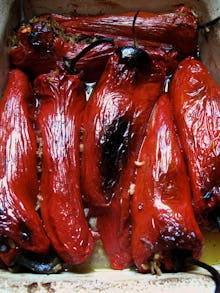 If summer is the season for grilling and fresh salads, for me autumn is the season when I'll start cooking hearty, more complex and healthy dishes. On first sight stuffed dishes look complicated and difficult to make, but once you learn how to make them it takes no time.  It's fun to roll grape leaves and it's easy to substitute ingredients and create your own favorites.
A dish can easily be made vegetarian by substituting the meat stuffing with cheese and nuts or beans.
The result is divine. The  irresistible sweetness of the baked red peppers is well balanced with the aromatic stuffing, which can be boiled beans or ground meat with rice, nuts, and aromatic herbs.
Stuffed Red Peppers
On the scale for Bulgarian home cooking, this is one of the top choices.
5-7 Servings
Ingredients
½ lbs ground beef
½ lbs ground pork
1 medium size onion, minced
1 carrot, finely shredded  on stainless steel box grater
½ tomato, pureed
1 cup rice
1 tablespoon Partanna extra virgin olive oil
1 tablespoon fresh parsley
½ tablespoon fresh oregano
1 teaspoon freshly ground black pepper
Red peppers – 5-7*
Salt to taste
Preparation
If you are using long red peppers you will need seven, if using bell peppers then you might need only five. When you buy them choose the smaller ones. They are easier to cook and make better individual portions.
In a large sauté pan, heat one tablespoon of olive oil.
Add the onion and cook until soft, about 2-3 minutes. Add the rice, salt, black pepper, and the oregano and cook for another 3 minutes. Then add the shredded carrots and the ground meat. Mix well with the rest, add the tomato puree, and cook for 6 minutes.
Preheat the oven to 350F.
Clean the red peppers. With a small knife cut an opening around the stem, like a hat. Preserve it. Remove all the seeds. Stuff the pepper gently with a spoon, so you don't break the skin. When all the peppers are ready, arrange them like little dolls with hats on in a deep baking pod. Add water enough to cover three-quarters of them, and place them in the oven. Bake the stuffed peppers for one hour.
Serve them with yogurt on the side.