Why India's 'Gender Park' is a Terrible Idea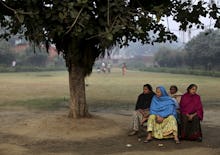 Last week, activists expressed disappointment with the Kerala state administration for not implementing the proposal for a "gender park," a plan in action since the foundation stone was ceremoniously laid back in March of last year. Back then, the authorities announced that the Thantedam Gender Park would "have all facilities for the social gathering of women."Though some people are clearly disappointed that the plan has yet to launch, I have some serious reservations.
The objectives of the Thantedam Gender Park include providing a space for convergence of all women's activities undertaken by organizations (such as empowerment programs and entrepreneurship activities), and to "generate a space exclusively for women's activities." There are two major problems with this approach: by making gender issues exclusively women's issues, the development removes men from the thinking about how gender affects them; and it neglects some gender concerns in the context of LGBT communities. 
Growing up in India, I have felt on several occasions that the cities I have lived and traveled in do not contain enough free public spaces for kids and teenagers to just hang out and meet new people . Such spaces are limited to playgrounds, which requires at least a minimum amount of athletic activity, or eateries, which people tend to visit with friends. Discussion forums tend to be generally academic, thereby limiting the scope for casual, spontaneous discussion.
Although the internet, with its multiple avenues for expression, has tried to fill this void, it cannot replace public interaction. I never realized how prominent this lack of public spaces was in India, until I happened to experience Speakers' Corner, in Hyde Park, London and was amazed by the history and relevance of a physical space dedicated to free speech. A similar concept in India exists in the city of Kolkata, where adda comprises communal debate and discussion sessions with regular visitors and strangers on a variety of topics. Adda is intrinsically woven into the culture of Kolkata, which might have contributed substantially to its progress in the fields of art, education and governance.
But Adda is an exception. India needs open public spaces that provide opportunity for discussion on political and social issues. A gender park, however is not the answer. 
By designating a gender park for activities concerning only women, it sends out a message that men are not welcome or necessary to discuss issues concerning gender. While it can be argued that since women are victims of patriarchy, the park would provide them with an exclusive space free from male oppression, I believe that such physical segregation further widens the social gap between genders, rather than providing safety to women.
When a teenage boy sees that the gender park is a place for his female classmates to go discuss street harassment, it tells him that street harassment is a problem to be dealt with by women alone.
Gender violence does not involve only one gender. I ascribe to the view that engaging men in the so-called "women's issues" discourse is crucial to ensuring inclusive development.
Calling the space a "gender park" also does injustice to the myriad of gender concerns which affect not only cis women but people of other genders in the transgender communities.
In order to raise public awareness about women's history, , parks are not the answer. Instead, initiatives like the Women's Heritage Trail in New York commemorating milestones in the women's lib movement are a great way of achieving that goal.
Meanwhile, India is in dire need of specific public spaces for discussion about all genders. Making these spaces "women only" will only decrease the value and effectiveness of that discussion.
For once, I'm glad the government authorities haven't acted on their promise.