We're Breaking New Ground in PolicyMic's Politics Vertical, Here's What You Need to Know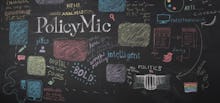 Welcome to PolicyMic 2.0! Today we're unveiling a new design and set of initiatives that will help grow the community and take our platform to the next level.
PolicyMic represents a new type of media. The Politics section features over 1,000 millennial voices from across the globe. When a reader clicks on a politics story, they get a personal, informed, and unique opinion on current events from a millennial's perspective. Along with our redesign, the Politics team is undergoing a series of exciting changes, including a more uniform style to the section, an opportunity for top writers to become paid columnists, and growing support for small groups of writers (Policy Circles) to work collaboratively on special projects. The results should be an even-higher quality of articles and increased connections between writers.  
First, based on what we've found works best, there will be a strong emphasis on a particular Politics-section style. Top articles start with a personal story or anecdote (that connects to a current event and shows how it is affecting a particular person), offer the writer's unique angle on the event, and build the argument by connecting the dots in a way readers haven't considered before. These gold-standard posts are personal, well-researched, and rich with images, charts, or videos. They inspire other millennials to take their thinking to the next level and provoke them to form, or reform, their opinions. You might see a piece from a Harvard student about her visit to North Korea, a former Marine's reflection on watching the Twin Towers fall, a UNC student's reaction to the Syrian refugee camps, or a young researcher's vision for ending the drug war. You won't find the same range of personal experiences, informed opinions, and fresh ideas anywhere else.
Second, the success of the PolicyMic community has surpassed every expectation and now we're in the position to reward top writers with paid columnist positions. Once writers have a track record of publishing engaging, smart articles, they'll be eligible to become a paid columnist. Columnists will cover a particular topic, like immigration reform or drug policy, and further develop their expertise and skills alongside our first-in-class editors.
Third, we recently launched a collaborative initiative, Policy Circles. These invitation-only groups give top writers space to work together on special projects. (For example, the education circle is developing a new approach to college rankings.) Participants will also have the opportunity to act as an advisory board and invite guest pundits on the site, like elected officials of business leaders, and help moderate Open Mics on the site. Together, we're only just starting to explore the potential for such groups.
With these changes, the Politics section will continue to be a forum for rising millennials to discuss everything from politics to policy, business to technology, and economics to international affairs, making full use of the interactive and visual online medium. It'll continue to be a place where you come to read perspectives you agree with, disagree with, or hadn't even considered before — views that run the gamut from liberal to conservative, from socialist to libertarian, everything in between, and none of the above. As we welcome all viewpoints, we will strive to become the natural home for writers and readers who, whatever their partisan label, want to make their voices heard and stand up for the values and interests of the millennial generation.
There's no ceiling on what comes next. Thank you for being an amazing part of the community for these past couple years. With your help, there will be many more.
- The Politics Team