Bob Costas Got Slammed For Calling Out Redskins Racism During An NFL Broadcast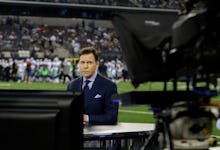 The movement to change the Redskins team name has gathered even more steam. During the halftime telecast of NBC's Sunday Night Football, Bob Costas took to the airwaves, calling for the team to change its name. Calling the word "redskin" an insult and a slur, Costas joined the growing chorus of sports pundits voicing their disapproval with the Washington mascot. And that chorus will keep up until team owner Dan Snyder changes the name.
Going on the Dan Patrick show the following day in order to clarify his comments, Costas remarked, "If you were to walk into a gathering of Native Americans — if you were on a reservation or happened to come across a family of Native Americans in a restaurant, and you began conversing with them — would you feel comfortable referring to them as Redskins?" Forget about Webster's designation of the term as offensive, most people would find "redskins" offensive on a purely instinctual level.
Watch Costas below:
The reaction to Costas' comments was fairly predictable. Some expressed outrage at the thought of inserting a political perspective within the sporting arena, and some were excited and inspired by Costas' willingness to say what he did given the inevitable backlash. Costas evoked similar controversy last year when he criticized American gun culture in the wake of the shooting of Jovan Belcher, a former Kansas City Chiefs linebacker. The visceral reaction on Twitter did not disappoint.
But a Redskins name change is all but inevitable. A mounting collection of sports pundits, establishment op-ed writers, and even the president has weighed in on the issue, and most of them are calling for a team name change. NFL Commissioner Roger Goodell, who initially argued for retaining the mascot, has walked those comments back, telling the Washington Post "Well, you know, we're always sensitive to what impacts the league in general, and that includes our 32 teams, and making sure that we're doing what's right here."
It is increasingly clear that the momentum is strong, and it's not going away anytime soon.