The World Makes Sense Again — Tina Fey and Amy Poehler Will Host the Next Two Golden Globe Awards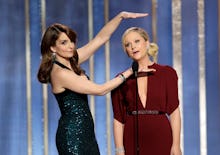 When the next jerk wearing a backward cap tells you that it's just a biological fact that women can't be funny, please pleasantly direct them to this tremendously impressive news item: Amy Poehler and Tina Fey will not only be hosting the next Golden Globes; they will also be hosting the one after that. Why? Because they literally kick ass. 
They made the Golden Globes something worth watching again. According to CBS, "Fey and Poehler earned raves when they hosted the Globes telecast earlier this year, along with 19.7 million total viewers tuning in, up 17 percent from the previous year (when Ricky Gervais hosted) and one of the most watched Globes ever." Yeah, that because that must mean women can't be funny.
NBC's alternative programming president Paul Telegdy described himself as "elated" that the electrifying duo has accepted to host the show for the next two years. He told CBS that "Tina and Amy are two of the most talented comedic writer/performers in our business and they were a major reason the Golden Globes was the most entertaining awards show of last season."
I think it's safe to say we are all feeling very elated right now. 
Excited? Pumped? Thrilled? What do you think this means for women and comedy? Let me know on Twitter and Facebook.