Journalists Asked Daniel Radcliffe About His Gay Sex Scene, His Response Is Perfect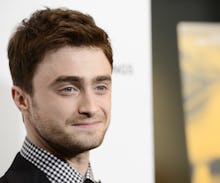 Daniel Radcliffe is baring it all once again in his latest film, Kill Your Darlings­ — but this time the news isn't focused on the fact the Harry Potter star is naked. Rather, the press has latched on to the fact Radcliffe is portraying a young, gravel-voiced Allen Ginsberg as he falls in love and becomes intimate with Lucien Carr (Dane DeHann), another man.
The boy wizard first decided to disrobe back in 2007 for the stage play, Equus, where he starred as Alan Strang, a young man with a disturbing sexual obsession with horses. The play, while not without some controversy (Radcliffe was only 17 at the time of production), was well-received and the young actor's nude scenes received less attention than his evident skill. Radcliffe was becoming a man and proving to be a gifted thespian — the fact he was getting undressed was only part of his art, and shocking mainly because of his age.
With Kill Your Darlings set to release in the U.S. this Wednesday, reporters are now taking the bait and pushing Radcliffe to talk about his "gay sex scene." However, the 24-year-old is having none of it. Known for his advocacy and support for the LGBT community, Radcliffe had a lot to say when a reporter asked him if his gay sex scene would upset or alienate some of his fans, and if those fans would be able to "cope." He responded:
"I do feel like going back to all those people and be like 'Why weren't you more shocked about the sexual, religious worship of a horse than my character has in [Equus]?' And … the gay sex scene in this is somehow troubling everyone suddenly ... If they stuck with me through 'Equus' they're not going to find a problem with this. And if they are, they're a really weird type of bigot. If they're like 'No, horse is fine but gay people, I can't stand them.'"
While Radcliffe tells reporters that he knows — and we all can agree — that the salacious nature of queerness in popular cinema sells movie tickets, Radcliffe's comments demand that people reassess just why it is that homosexuality in any capacity creates such discomfort. Why are we even talking about the fact that queerness could isolate fans? Shouldn't Ginsberg's queerness, and Radcliffe's portrayal of it, be secondary to the fact that Kill Your Darlings is promising to be a memorable film? As Radcliffe posits, rather than focusing on Ginsberg's sexuality we should be focusing on the relatable story of a young man falling in love for the first time.
"When it comes to the character I play, one of the reasons I took this particular part is that there are parts of Allen Ginsberg that I can relate to," Radcliffe writes in the New York Daily News. "The character we're showing in this film is universal because we see him at a time in his life that we all can identify with. It's somebody finding out who he is, and everyone had some variant of that experience around the age that Allen is in the film. It's about young love and all that goes with it."
As Radcliffe points, out the scene in question "is about 30 seconds in a two-hour movie, within an already intense montage with a lot of other stuff going on." So it's a strange decision for the press to focus so extensively on that scene. Rather, commenters could discuss Ginsberg, the legacy of the Beat poets, Carr, the murder of David Kammerer and the case that followed, and, perhaps ironically, the story's place in the history of homophobia.
Media coverage of a film like Kill Your Darlings should highlight the conflicts and difficulties LGBT people face. Instead, journalists have chosen a focus that only further alienates one of the subjects the film is addressing. There is nothing for fans to "cope" with because queerness isn't something to "deal" with: it's just a part of the world we live in — then and now.