London School Bans Slang in 'Formal Language Zones'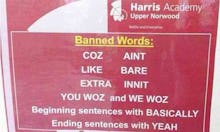 Yo! A London school has banned the verbal use of slang. Say what?! Well, not all slang. As part of an initiative implemented in September 2013, students at Harris Academy Upper Norwood are banned from using 10 informal phrases including "coz," "like," and "innit." The list of banned phrases will change according to trends in students' vocabularies over time. Harris Academy's new principal, Chris Everitt, hopes the initiative will raise awareness about the use of language in different situations, especially ones that can and will determine the students' future such as job and college interviews. 
Students will now have to think before they speak in classrooms and hallways, which under the new initiative, have been designated "formal language zones."
Liam Reddington, a spokesperson for the Plain English Campaign, a campaign dedicated to the use of "plain English" to secure effective communication between people and organizations, supports the school's new initiative and believes more schools should follow their lead. "Schools are responsible for preparing young people for adult life and they need to be able to speak properly," he said.
Toss slang aside with the sagging pants and un-tucked shirts. The new initiative doesn't sound much different from the talk my mother gives me before visiting Grandma's. What do you think of the initiative? What words would you add to the list?