Why Artsy Will Soon Be Every Teacher's Best Friend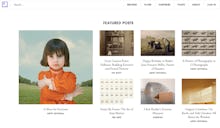 When the online artwork database Artsy launched Artsy Education in September, no one heard about it. Not only was its release eclipsed by the high-profile launch of the mobile Artsy app three days earlier, but its educational bent also lacked the élan to garner much attention. Despite this insouciant reception, the new section represents a major victory for arts education in schools across the country.
Artsy Education is a guide to help students and educators get the most out of the site's existing features. With its easily navigable database of the world's art, the site is poised to establish the integration of art history in social studies curricula by helping teachers more quickly find images for lesson plans. Many teachers already recognize the value in utilizing visual accompaniment when teaching dry material—and a database as organized, dependable, and elegant as Artsy will make the endeavor to enliven classroom lectures more seamless than ever before.
It's one thing to have an endless supply of hi-res images, and quite another to have them organized in an easily searchable manner. And though a few similar art databases are available for free online, to use any of these typically requires knowing exactly what artist or artwork you're looking for. For example, Art Resource claims to be "the worlds largest photo archive of fine art," but the browse function returns only two options: "Featured Artists" or "Featured Museums."
The browse option on Artsy, on the other hand, delivers a page with multiple "genes" to peruse. This intricate system of categorization for finding related artworks is what makes Artsy's indexing so unique. The feature relies on the Art Genome Project, described as an "ongoing study to map the characteristics (known as "genes") that connect the world's artists and artworks." In addition to generating access to over 500 mapped qualities via this project, Artsy also offers biographies of the artists included in its archive and a "View in Room" option that demonstrates the physical size of an artwork—a factor typically lost when viewing online images.
One of the biggest issues public school teachers face is a lack of time in which to make lesson plans. Using a highly searchable database like Artsy makes including artwork relevant to lesson plans simple. At a time when arts programs across the country are in decline, the importance of this inclusion must be stressed, as it can help retain the attention of students and perhaps spark deeper interest in things like Greek Mythology and Post-War Europe.
Artsy's goal is to democratize the art world—which is often viewed as being closed and elitist—by bringing art to anyone with an Internet connection. With the launch of their sleek new app and their partnership with museums like the Getty, the Guggenheim, and the British Museum, this goal seems increasingly realistic.  The Internet can be a curse of superfluity when a Google search for something specific returns hundreds of thousands of hits, most of which are useless. But the genius of Artsy Education is derived from its original design that allows for easy navigation and intelligent indexing—and fosters a deeper appreciation of art in the process.