'SNL' Ignores Black Women, Black Women Ignore 'SNL'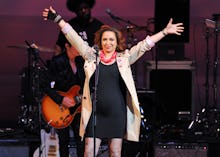 Saturday Night Live is a staple in the comedy business. The iconic NBC series has launched the careers of some of America's funniest personalities including Tina Fey, Adam Sandler, Eddie Murphy, and John Belushi. However, SNL has failed to incorporate one overlooked demographic of comedians: black women.
There have only been four black female cast members since the series began in 1975. Yvonne Hudson, Danitra Vance, Ellen Cleghorne, and Maya Rudolph are some of the most brilliant SNL alums. However, since Rudolph exited in 2007, SNL show runners haven't replaced her. Instead, Lorne Michaels, SNL co-creator and executive producer, has tapped Kenan Thompson and guest hosts like Kevin Hart to portray black female characters.
The reliance on black men to don dresses and prosthetics to represent black women on SNL can be attributed to several factors, according to Prachi Gupta of Salon. She argues that Saturday Night Live has a rigid comedic formula, so hiring one or two black female cast members would not strengthen diversity on the show.
"Diversity is not about fulfilling quotas," she writes, "it's about broadening the perspective of the show."
Gupta's argument must pain aspiring black female comedians pining for a chance to wow SNL executives, but her points are valid. The show's comedy doesn't translate well in communities of color. A cursory glance at Twitter on Saturday night reveals how uninteresting SNL's sketch format is for some black folks. The series is no In Living Color, and the lack of engagement is evidence of that disconnect.
So why should black female comedians audition for SNL? It is an excellent platform for young comedians seeking fame and fortune. However, in the age of YouTube and other inexpensive avenues, black women don't need the SNL machine to be successful in the comedy business.
All they need is an audience.
Just ask Issa Rae. The 28-year-old comedian and actress launched her own web series, The Misadventures of Awkward Black Girl on YouTube in 2011. It was a big success, garnering more than one million views. Rae was also able to crowdsource $40,000 to finish the first season. She partnered with Pharrell Williams' "I Am Other" to produce the second season, and she has used The Misadventures of Awkward Black Girl to create and produce other successful web series including The Choir on YouTube's AlrightTV and RoomieLoverFriends with Black & Sexy TV. Rae has also leveraged the success of the series into magazine covers, a talk show on AspireTV, and a show deal with HBO.
Rae credits her success to noticing the lack of nuanced representations of black women in media and deciding to help fill it.
"I definitely set out to see the reality that I didn't see on television," she told blogger Necole Bitchie. "I never see black people or when I do, we're stereotypes. I love this quirky humor. Black comedy never depicts that side. I love Arrested Development, The Office, Community, and Parks & Recreation. So I wanted to create that, for us."
Other black female comedians are using YouTube to produce relatable content too. Franchesca Ramsey, known on the internet as "Chescaleigh," has garnered a massive following on social media. Her video, "Shit White Girls Say to Black Girls" amassed more than 10 million hits, and she's fostered a YouTube community with more than 100,000 subscribers. 
These milestones are major markers of success in the comedy business and both Ramsey and Rae have accomplished such greatness without the storied assistance of the Saturday Night Live platform. They are the exception but the rule in our social media-dominated world.
SNL newcomer Jay Pharoah is hopeful that his employers will eventually hire a black female cast member. In an interview with African-American site theGrio, he recommended Darmirra Brunson, an actress on OWN's Love Thy Neighbor, for a coveted spot.
"Why do I think she should be on the show? Because she's black first of all, and she's really talented. She's amazing. She needs to be on SNL. I said it. And I believe they need to follow up with it like they said they were going to do last year," he said.
Kenan Thompson has also responded to the diversity criticism, though he employed a different approach. In an interview with TV Guide, the Nickelodeon alum deflected blame by faulting black female comedians. He said, "It's just a tough part of the business. Like in auditions, they just never find ones that are ready."
His response reflects a legion of comedians that fault their peers for not seeking opportunities. Thompson's simplistic approach to the issue doesn't account for Michaels' power in determining who's offered an audition and how SNL defines comedy based on their formula. Thompson's lack of concern increases the urgency for black female comedians to continue making their own inroads into the comedy business.
Saturday Night Live is a powerhouse platform. It delivers massive ratings each week and many comedians leave SNL as superstars. But it isn't the only option.
Instead of looking toward SNL to launch the next brilliant black female comedian, hopefuls should peruse YouTube. Great comedy is being produced on the platform, and it deserves recognition — with or without love on Saturday Night Live.