A Rundown On the Senate Deal That Could Be Our Last Hope to Avoid Default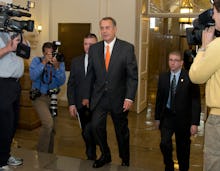 The House appears close to a vote on a bill that will both reopen the federal government and extend the nation's debt ceiling, according to reports this morning from Capitol Hill.
In a risky move by House Speaker John Boehner (R-Ohio), the bill would signal some sort of capitulation on the part of House Republicans after a whirlwind 16-day government shutdown and seesawing on the brink of a U.S. debt default. Here is a quick rundown of what will be included in the bill:
1. The government would reopen, and funding would continue through Jan. 15.
2. The debt ceiling would be lifted through Feb. 7.
3. A bicameral budget committee would be created and required to create a conference report by Dec. 13.
4. Back-pay would be delivered to furloughed government employees.
5. An income verification requirement for people applying for health insurance subsidies under the Affordable Care Act would be created.
6. The Treasury would be allowed to use "extraordinary measures" of their own if Congress does not raise the nation's debt ceiling by Feb. 7, 2014.
Its unclear if the bill, which originated in the Senate, will have enough votes to pass. Both Boehner and House Minority Leader Nancy Pelosi (D-Calif.) will need to whip up votes pretty quickly. The agreement, negotiated by Senate Majority Leader Harry Reid (D-Nev.) and Senate Minority Leader Mitch McConnell (R-Ky.), will originate in the House. Assuming it garners the necessary votes, which will be very difficult in such a short time frame, the bill could then fast-track through the Senate, bypass some procedural hurdles, and come to a vote on the floor with a simple procedural vote. This is the quickest way to pass this piece of legislation as they U.S. nears its debt ceiling limit at 12:00 a.m. tonight.
No Republican senators have indicated filibustering the bill on the Senate floor. Doing so could allow enough time for the country to pass the debt ceiling limit and default on its bills.