Cyclone Phailin Death Toll Would Have Been Much Higher Without Naveen Patnaik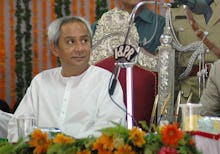 India's handling of Cyclone Phailin, which hit the country over the weekend, has earned the praise of the United Nations, foreign governments, and Indian citizens themselves.
About 15 years ago, a cyclone similar to Phailin hit the northeast coast of India and killed over 10,000 people. The 1999 Odisha cyclone was a Category 5 storm like Phailin. But to the surprise and relief of most people, Phailin hasn't taken thousands of lives. So far, only 23 deaths have been reported, an incredibly low number in comparison to the 10,000 who were killed by Cyclone Odisha.
People from the state of Odisha expressed reliefat the low death toll, and are pleased with the local and state government's response to the cyclone, a rare occurrence in a country where news about corrupt politicians and inefficient states seems to circulate on a regular basis.
But who is responsible for the actions of the state?
The hero, it seems is Odisha's chief minister, Naveen Patnaik. 
Who is Naveen Patnaik? 
Patnaik kept a low profile before he became Odisha's chief minister. A reclusive writer, he stayed away from politics till his father's death in 1997. His father, Biju Patnaik, also held the post of chief minister of Odisha. 
What did he do to prepare for Phailin? 
According to news reports, Patnaik and his government asked defense forces to help with evacuation and other preparations for the cyclone. He placed the state under disaster status, and cancelled all holiday celebrations. His government even refused to take time off for the Hindu festival Dushera and worked through the cyclone.
As a result of Patnaik's leadership, 900,000 people were evacuated from low-lying areas to shelters in schools and government offices.
What is he doing in the aftermath of the flood? 
Of course, the successful relief efforts cannot be attributed to Patnaik alone. Without the cooperation of disaster relief agencies and members of his staff, Cyclone Phailin could have taken many more lives. Still, Patnaik's efforts are a major success. Not only has he saved thousands of lives: he has also shown Indians that politics can be done right.