Man's Quest to Spread His Gay Son's Story Just Ended in Tragedy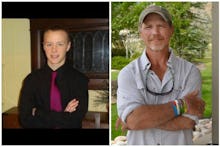 After his gay son committed suicide from the taunting and bullying he received at school, Joe Bell decided to walk from his Oregon home to New York City to cope with his grief and spread his son's tragic story. Sadly, Bell's story ended in tragedy as well. Nearly six months after he departed, Bell was struck by a tractor trailer last Wednesday after its driver allegedly fell asleep at the wheel. He died at the scene.
Bell's son Jadin was sensitive and artistic, and he received an outpouring of support as he lay in critical condition in the hospital. But he was still often picked on at school; classmates even threw things at him. After Jadin's death, Bell had trouble dealing with his grief, lying awake at night and wondering what he could have done differently. He decided to go on his cross-country trip.
Bell set out on April 20 with only his clothes, a sleeping bag, and a push cart filled with food and water. Along the way, he shared his son's story to anyone who would listen and received support from the many people he met. Some gave him food, some water, and others a place to sleep. In some cities, he stayed for weeks and found as many speaking opportunities as he could. During that time, he accepted rides from place to place, but once he was back on the road, his travels continued only on foot.
At times, he was tired, hungry and lonely, but he persevered, determined to make it to New York City in memory of his son. A week ago, the unthinkable happened in Eastern Colorado when a tractor-trailer ended Bell's journey and life prematurely. A tragic end to an even sadder story.