5 Awe-Inspiring Performances Every Motown Lover Needs to See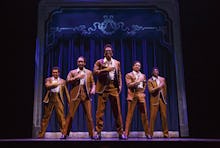 The melodies of Motown music are as timeless as they are iconic of the 60s, 70s, and 80s. What has come to be considered a distinct musical genre actually began as a record company led by Berry Gordy in Detroit. In fact, Detroit's nickname, "Motor-Town," is where Motown got its name. Blending influences from gospel and R&B, this poppy off-shoot of soul music demands nothing short of absolute confidence and suaveness from its performers. Here are five of the most epic performances in vintage Motown that exemplified that iconic Motown moment.
1. Stevie Wonder — "Uptight (Everything's Alright)"
This legend of Motown began delivering soulful hits in his early teens, and continues to be prolific even to this day. Usually seen behind his piano with tight-knit braids, this early performance shot in 1966 at Top of the Pops Studio shows a much a younger, cleaner-cut Stevie. With awesome hand gestures and a heart-warming smile, Stevie rocks the house in this performance. People may or may not be dancing on top of tables. 
2. Martha and the Vandellas — "Heatwave"
Observe the talent of three of the finest ladies in Motown. This iconic trio brought a real fire to their performances while maintaining the Motown standard for highly-ordered performances. They also had some of the best hair in Motown (maybe the world). I love this performance because of how intimate it is — just a tiny stage with a packed crowd grooving hard up against it. 
3. The Temptations — "Can't Get Next To You"
This band delivered some of the most careful performances in Motown. Their synchronized dance moves, glittery vests, and top-notch group harmonies were always flawless. Formed generations before Justin Timberlake or Lance Bass were born, The Temptations were not a "boy band" — they were a "man band." This performance features some top-notch camera pans that give you a good sense of each band member.
4. Marvin Gaye — "Pride & Joy"
There's not a whole lot of room for original writing on Marvin Gaye's voice, so I'll leave it at this: he's a really good singer. With unparallelled charm and sophistication, this handsome devil wrote songs that melted female hearts. Notable in this performance, besides Gaye's perfect chin, are four matching background dancers with some pretty groovy moves. 
5. The Supremes — "Where Did Our Love Go?"
Last, but certainly not least, one of the most popular Motown groups and America's most successful vocal group of all time. The Supremes had 12 number one singles on the Billboard Hot 100. The Supremes' foot-tapping tunes rest as a milestone in music history. In this video, they sing "Where Did Our Love Go?" under fancy chandeliers in a regal ballroom. The Supremes appear as royal as ever in this performance.