Madison, Wisconsin is Worried This "Snuggle House" is Thinly Veiled Prostitution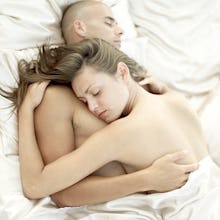 Here's the newest mind-boggling trend in bad business plans: pay-to-play cuddling.
Businesses that allow patrons to pay to be cuddled are springing up everywhere. One establishment of note is The Snuggery in Rochester, New York, where clients can purchase sessions for a dollar a minute. The owner, Jacqueline Samuels, says that cuddling-for-pay can be therapeutic to people going through a divorce or breakup, or for anyone who wants no-strings-attached touching. No sexual contact of any kind is allowed at The Snuggery, but patrons are allowed to hold the provider, as well as exchange caresses of the face, neck, and arms.
An establishment with a similar business model in Madison, Wisconsin, may never get the chance to cuddle anyone, as city officials are worried that the Snuggle House will end up being a front for a brothel.
There are also new products designed to aide consumers in their own private cuddling. Designer Mehdi Mojtabavi has developed a mattress built for cuddling that allows users to position their bodies more comfortably for a good cuddle session. The mattress lets cuddlers place their arms between cushy slats, allowing them to spoon more comfortably. There are even pillows created specifically to enhance the cuddling experience. The "armadillow" allows couples to lay on their sides and watch TV together, with built-in grooves for more comfortable arm positioning underneath.
Studies show that cuddling is one of the best ways for humans to bond, releasing chemicals in the brain that grow rapport and make you feel good. Cuddling is not only a powerful way for couples to bond, it might be just what we need in American politics. Maybe if new members of Congress held routine cuddling sessions with those reelected at the start of each legislative year, the subconscious bonds formed would break the gridlock in Washington, allowing Republicans and Democrats to engage in common sense reforms while eliminating political rancor.
I guess it made more sense in my head ...