4 Charts That Prove Millennials Are the Internet Generation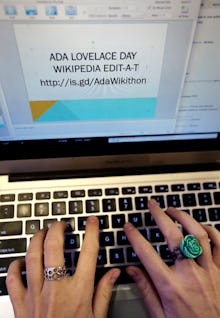 According to the Pew Research center, more and more people, especially millennials, turn to the internet and other digital news outlets to keep up-to-date with current events. However, these news sources are often politically-motivated outlets rather than objective platforms of information. The following polls highlight how powerful the media is today, and how millennials can help shape the future of our society by using media for good.
1. Most Americans Get Their News Online, Especially Younger Americans
A poll conducted in July 2013 shows that 71% of 18 to 29-year-old Americans used the internet as their primary news source, while 55% receive their news from television. This is a huge change from the turn of the century, when only 18% of 18 to 29-year-olds turned to the internet for news and 72% turned to television.
Older demographics saw a less rapid growth in internet use than this group did, but still saw a substantial growth in the last decade: 16% to 63% for 30 to 49-year-olds, 11% to 38% for 50 to 64-year-olds, and 1% to 18% for those 65 and older.
While younger people's readership of print news has declined, younger generations do not read less news. Millennials are just as involved and aware of current events as older generations, they just get news from other sources.
2. Social Media Has Also Grown As a Source Of News
In the past two years, the number of 18 to 24-year-olds who turn to social media for their news tripled. In 2010, only 12% of this group caught news headlines on social media sites including Twitter and Facebook. In 2012, that number had jumped to 34%. 
This reveals content on social media sites is becoming more powerful by virtue of its growing user base. As social media continues to boom, millennials in particular are able to take advantage of this organic process by voicing their passions and spread the word on effective and beneficial campaigns.
3. News is Becoming More Mobile
Not only are more Americans turning to the internet and other digital sources for their news, but they're also using these platforms on their mobile devices. A study from 2012 showed that 62% of smartphones users and 64% of tablet users regularly checked their mobile devices for news.
Interestingly, the majority of those who turn to their smartphone or tablet for news prefer to use their mobile browser rather than mobile apps. Only 23% of tablet users and 28% of smartphone users check the news through mobile apps, compared to 60% of tablet users and 61% of smartphone users who would rather open their mobile browser.
Mobile apps may not have completely permeated society. However, the data shows that the younger generation is constantly checking the news, even when they're away from their computer, and that they consume news when, where, and how they want.
This is another great tool for millennials to use to help shape the future of society. Because news and communications are now more frequently used in real time, mobile users are able to spread breaking news as it happens. 
4. Americans Have a Negative View On Media, But We Can Change That
Perhaps the most concerning data comes from a poll conducted a few months ago asking Americans who considered the internet a main news source how they perceived news organizations. The poll revealed that 65% of this demographic thought news organizations were politically biased, 73% thought news organizations spent too much time on unimportant stories, and 81% thought news organizations were influenced by powerful people.
It's unfortunate that so many Americans view news organizations in a negative light, but with these new media trends show that the negative reputations can change. Millennials can be the change in our society by using the media to speak out against issues of concern, and by encouraging valuable causes that have a positive impact on society.