N.J. Senate Results: Cory Booker Wins Special Election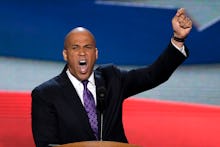 Newark Mayor Cory Booker has defeated Republican nominee Steve Lonegan, in a race that was never really in doubt. With roughly 60% of precincts reporting, the race was called in favor of Booker with 55% of the vote, though that number may change as more votes are reported. 
Just after 9:30 p.m. EST, the Associated Press declared Booker the winner:
Booker was all but declared the victor when he announced his candidacy to replace Frank Lautenberg on June 8. He has been the Mayor of Newark, N.J. since 2006, and in 2009 President Barack Obama offered Booker a position in his administration, which Booker declined. 
He joins a Senate already held by a Democratic majority. Robert Menendez, a fellow Democrat, holds New Jersey's other seat. Just after polls closed at 8 p.m., before the race had officially been decided, the Democratic Senatorial Campaign Committee sent out a press release congratulating Booker on his win. 
Booker received many endorsements from prominent Democratic figures, including the president. He won the August primary election with nearly 60% of the vote.
Read here for the full rundown of PolicyMic's coverage and analysis of Cory Booker and his Senate campaign.